Crowds cheered and waved flags as the Duchess of Cambridge arrived for a Valentine's Day visit to Liverpool today.
Kate wrapped up warm in a burgundy coat for a visit to a charity that helps addicts recover from drink and drug dependency.
The Duchess, making her debut solo regional visit, is spending her first Valentine's Day as a married woman in the city - more than 7,900 miles away from husband William.
The Duchess was shown behind the bar at The Brink, a dry bar run by the Action on Addiction charity to help addicts recover from drink and drug dependency.
Paula Carey, 37, from Dovecote, Liverpool, served her a smoothie, named The Duchess in her honour.
Carey said: "I said, 'Can I just ask you one question? Did you get anything nice for Valentine's Day?'
"She said, 'Yes I did thank you.'"
Kate was also serenaded by the resident choir at The Brink - made up of recovering addicts called the Raucous Caucus Recovery Chorus - singing a traditional native American Indian song titled, Wings Of A Dove.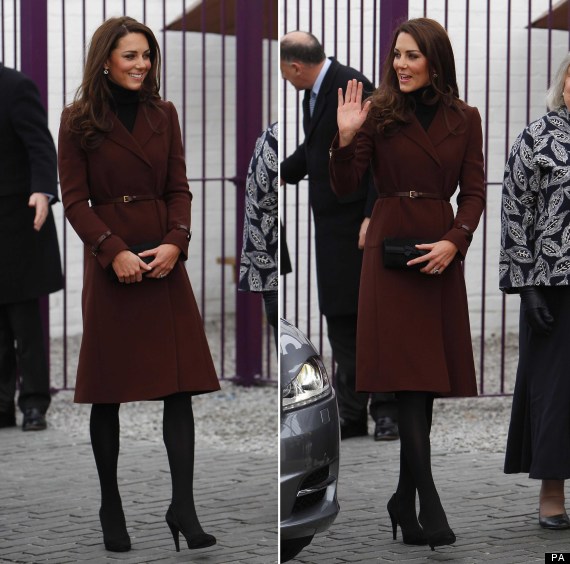 Kate Middleton arriving at the dry bar
Michael Edwards, 32, from Kensington, Liverpool, and a member of the choir, said: "It's a song about hope and happiness.
"I got involved in the choir because I'm in recovery from drugs and alcohol.
"Doing this, it's built my confidence, it's risen up. I didn't have any before.
"It's a bit scary with a royal audience but this is what the choir has done for me, to give me the confidence to sing in front of people.
"Everybody has been excited here for weeks because of the royal visit, that something this good is happening here."
The Duchess is making her first solo regional visit while William is on a six-week posting in the Falkland Islands as part of his role as an RAF search and rescue pilot.
During today's engagements, the Duchess will also meet children being treated for cancer and burns injuries at Alder Hey Children's Hospital and see Ronald McDonald House, which provides free accommodation for families visiting sick children.
Kate Middleton - Valentine's Day 2012
Kate is a patron of Action on Addiction together with three other charities - the National Portrait Gallery, East Anglia Children's Hospices and The Art Room.
The charity works to free people from their dependency on drink and drugs, support their families and educate professionals who give addicts help.
Apart from Liverpool, it has treatment centres in London, Dorset and Wiltshire.
The Brink is intended to provide a place for those who want to socialise without alcohol.
It also gives addicts in recovery a chance to re-enter the workforce, as three-quarters of staff are recovering alcoholics or drug addicts.
Speaking before the Duchess's arrival, Brink organiser Amanda Thomson said: "Everyone is really excited.
"We have had a few people calling up to try and get in but it's invitation only.
"Kate will meet the staff and some of our clients who have been through the treatment programme.
"And then we have the Raucous Caucus choir who are doing a song for her."
Ronald McDonald House is an independent charity providing free "home away from home" accommodation across the UK for parents and carers of the most critically ill children.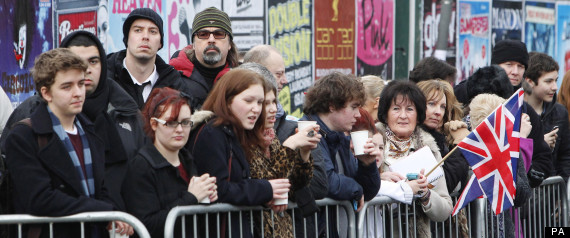 The Duchess has many admirers
The charity's facilities at Alder Hey are its largest in Europe and have put up 16,000 families since opening in 1993.
Initially consisting of 26 bedrooms, it has been expanded twice since then and now offers rooms to 84 families each night.
Kate will be welcomed at Alder Hey by brave seven-year-old Aimee Haswell.
The youngster, from Warrington, Cheshire, has a rare heart condition called hypoplastic left heart syndrome.
She has been through three major heart operations at Alder Hey and still needs regular check-ups.
Her mother, Lisa, said: "Aimee has always taken everything that hits her in her stride.
"She has always lived her life like any child of the same age with a normal heart, only she has less energy.
"When we received the phone call to say she had been chosen to greet the Duchess, words cannot describe our feelings."