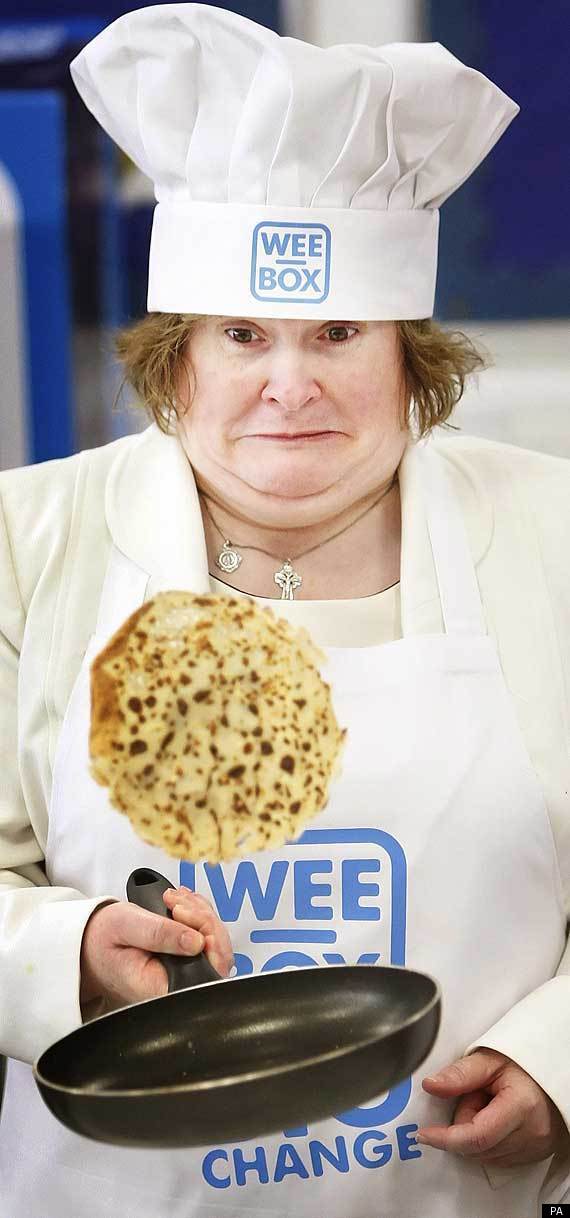 For a second there, I thought Susan Boyle had caught sight of Simon Cowell's latest face but no, it's just a pancake. Who knew they could be quite so terrifying?
The Britain's Got Talent star donned a chef's hat and flipped pancakes with students at St Augustine's High School in Edinburgh to raise awareness of Scottish Catholic International Aid Fund's (Sciaf) Wee Box, Big Change fundraising campaign.
Susan is being joined by other Scottish celebrities Robert Carlyle, entrepreneur Michelle Mone and Ally McCoist in promoting the campaign. Did no one think of asking Michelle McManus?
SuBo said at the launch: "Sciaf and its work with people living in poverty in developing countries is really close to my heart and always has been. I'm happy that I'm now in a position to help them more than I used to be able to."
Meanwhile, Susan agreed to take to the stage in a musical about her life. She will make an appearance at the end of I Dreamed A Dream, which stars her friend Elaine C. Smith.
Speaking to the Scotland's Daily Record, Elaine said: "Susan has become a great pal and I'd do anything for her.
"We are similar in many ways - two Scottish lasses from mining villages who were supposed to get married, have kids and be quiet.
"But Susan and I didn't quite turn out like that. I'm so honoured to be able to tell the story of her amazing life."
Susan added: "I am thrilled to be part of the musical and I'm looking forward to stepping on stage. It is an honest portrayal of my life and has been a cathartic process to be involved in."
The Billy Elliot-style, rags-to-riches musical will tour the UK and Ireland from next month.
CELEB PICS OF THE DAY