A Malaysian student, who was robbed by two men pretending to help him after his jaw was broken during last year's riots, was unable to defend himself, a court heard on Tuesday.
John Kafunda and Reece Donovan are accused of mugging 20-year-old Ashraf Rossli, after his jaw had been broken and bicycle stolen by a gang.
Rossli told jurors how he was "not in a position" to defend himself: "I remember being approached by a male who asked if I was okay. I remember being pulled to my feet, then I felt someone again tugging at my rucksack.
"I was not in a position to defend myself and was still suffering from the effects of being hit. I knew they were stealing from me but I could do nothing. Once they had taken what they wanted they left."
On Monday the court heard that Kafunda and Donovan had approached him pretending to help, but instead stole a Sony PSP and games from his backpack.
The "despicable" crime in Barking, East London, last August was captured on YouTube.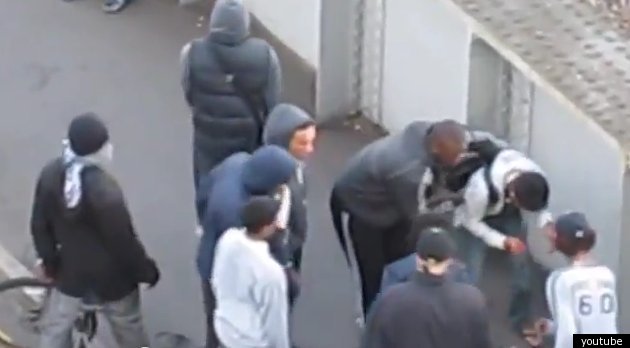 Stills from the mugging, captured on YouTube
Prosecutor Christopher Hehir alleged: "What these defendants did was take advantage in a way that can only be described as despicable.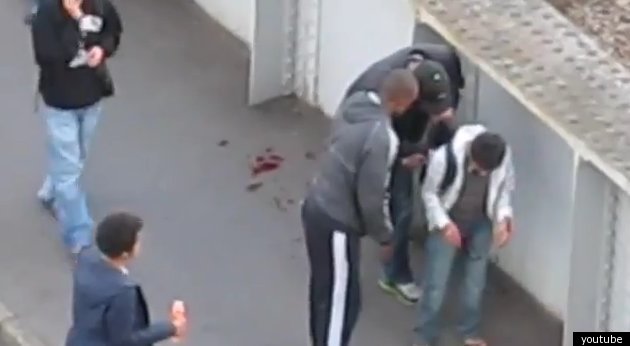 Stills from the mugging, captured on YouTube
"With blood pouring from his mouth, Mr Rossli ended up sitting on the pavement. Kafunda approached and lifted him up to his feet."
Both Kafunda, 22, and Donovan, 24, deny the charges.
The trial continues.