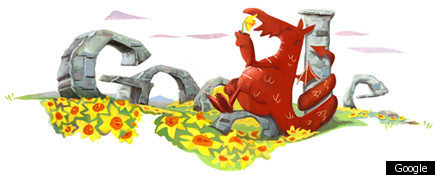 Google welcomed March in with a celebratory St David's day dragon doodle.
Y Ddraig Goch, the red dragon, is the national symbol of Wales. In Welsh, St David is known as Dewi Sant.
According to Wikipedia, Samuel Pepys, the famous 17th century diarist noted that dragons were a key part in celebrating Wales' national day.
He wrote that Welsh celebrations in London for St David's day included dragon-themed costumes and gingerbread men baked in the shape of a Welshman riding a goat.
St David's Day celebrations and parade will take place in Cardiff today. The St David's Day orchestral concert at St David's hall will feature the BBC National Orchestra of Wales.
Despite its significance to the Welsh, St David's day is not a public holiday. Campaigners have sought to have the day list as a bank holiday, but the idea has been rejected by Westminster.
See more Google doodles below.