Two men have been found guilty of robbing Malaysian student Ashraf Rossli whilst pretending to help him after his jaw was broken during last year's riots in London.
John Kafunda and Reece Donovan were caught in the act when the robbery was filmed and posted to YouTube.
Ashraf Rossli had already been attacked and had his bicycle stolen when the attack took place on a flyover in Barking.
Kafunda, of Eastwood Road in Ilford, was captured on camera putting his arm round Rossli and seemingly protecting him, as the student sat on the pavement bleeding.
Rossli told jurors how he was "not in a position" to defend himself.
He said: "I remember being approached by a male who asked if I was okay. I remember being pulled to my feet, then I felt someone again tugging at my rucksack."
Prosecutor Christopher Hehir said the two men had taken "advantage in a way that can only be described as despicable".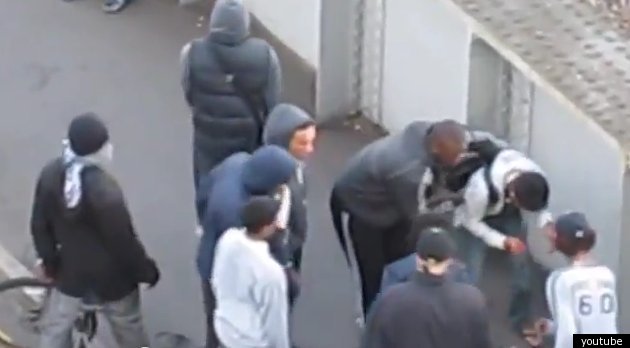 Stills from the mugging, captured on YouTube
The footage of Kafunda and Donovan pretending to help while stealing a Sony PSP and games from the student's backpack was uploaded onto YouTube and caused widespread outrage.
The two pleaded not guilty, but a jury at Wood Green Crown Court convicted John Kafunda 22, of robbery and violent disorder.
Kafunda walked out of the dock down to the cells before even hearing the verdict. The judge asked where he was and was told that he had gone for a walk.
The judge, unimpressed, asked why the defendant was allowed to leave the dock without his permission. Kafunda did not return to the court.
Reece Donovan, 24, of Cross Road, Romford, was convicted of theft, violent disorder and later burgling a Tesco store. Sentencing was adjourned to 13 March.
Donovan said of the sentencing: "you're sending an innocent man down, bruv, innit."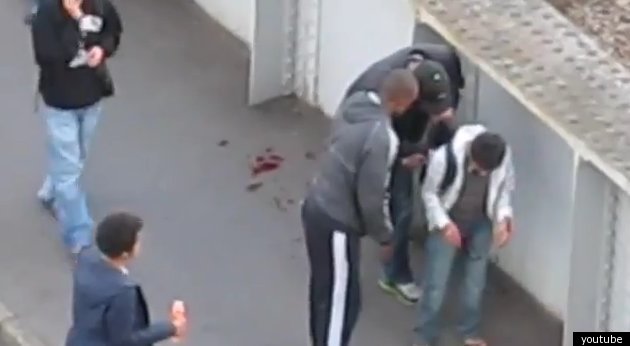 Stills from the mugging, captured on YouTube