Katie Price's management team have hit back at claims made by the winner of the model's search for a protege after she accused them of failing to deliver on their promise to turn her into a star.
Amy Willerton beat 10,000 hopefuls to be taken under Katie's wing on Sky Living's Signed By Katie Price but claims her life changed for the worse after winning the competition.
She told The Mirror: "I never expected overnight fame, but I don't believe the promises from Katie or her team were kept. I gave up my job, was encouraged to turn down a place at university and had to put my life on hold.
"I'm so angry. When I won, I thought life would change. It has... but for the worse. My life's been turned upside down. I've had enough of Katie and don't want anything more to do with her or her team."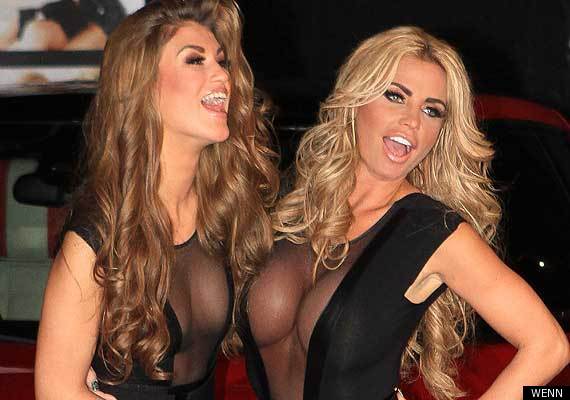 But Katie's management company, Black Sheep Management, have responded to the claims in an official statement on the model's website, saying her decision to sell her story was "disappointing" and "not surprising".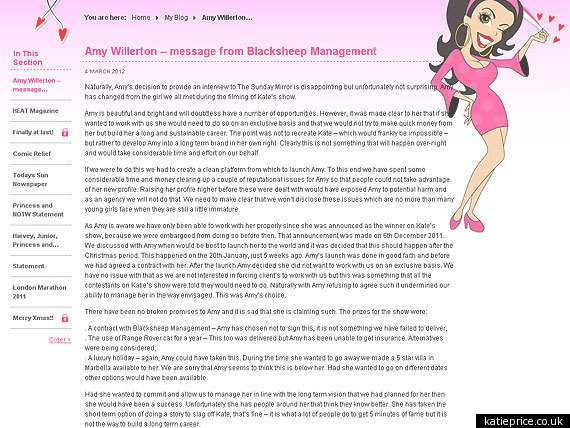 The statement said: "Naturally, Amy's decision to provide an interview to The Sunday Mirror is disappointing but unfortunately not surprising. Amy has changed from the girl we all met during the filming of Kate's show.
"Amy is beautiful and bright and will doubtless have a number of opportunities. However, it was made clear to her that if she wanted to work with us she would need to do so on an exclusive basis and that we would not try to make quick money from her but build her a long and sustainable career. The point was not to recreate Kate – which would frankly be impossible – but rather to develop Amy into a long term brand in her own right. Clearly this is not something that will happen over-night and would take considerable time and effort on our behalf.
"We have spent some considerable time and money clearing up a couple of reputational issues for Amy so that people could not take advantage of her new profile. Raising her profile higher before these were dealt with would have exposed Amy to potential harm and as an agency we will not do that."
"She has taken the short term option of doing a story to slag off Kate, that's fine – it is what a lot of people do to get 5 minutes of fame but it is not the way to build a long term career. We wish Amy every success."
Yesterday Amy took to twitter to confirm she had left Black Sheep Management, writing: "I can confirm that I have left Black Sheep Mgt. None of the prizes, and promises on SBK were delivered - I have walked away... For everyone wondering about the range rover it was taken away the day after the launch - I never drove it."