Manchester City manager Roberto Mancini has revealed he is interested in signing Arsenal forward Robin van Persie.
Disclosing one of the worst kept secrets in football, it comes as an untimely blow to Arsene Wenger's side, enjoying one of their best spells of form this season.
Mancini said at a press conference prior to City's Europa League tie against Sporting Lisbon: "We are interested in good players."
"I think all the good teams are interested in Van Persie. He is a fantastic striker but I think he will remain with Arsenal."
The 28-year-old striker has scored 32 goals this season and is favourite for the player of the year award.
He does however have less than 18 months remaining on his contract, and two weeks ago insisted that talks over a renewal would be delayed until the end of the current campaign - an ominous sign.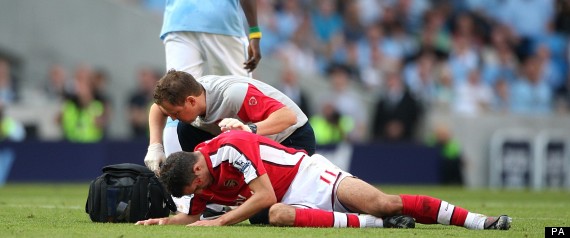 Van Persie receives treatment at Eastlands in 2009 after Emmanuel Adebayor stamped on him
Van Persie signed for the Gunners from Feyenoord in 2004 for a bargain £2.75m, but has won just a solitary FA Cup - in his first season - in eight years in north London. His goalscoring record for the reds reads 127 in 266 games.
The blue side of Manchester would arguably be the worst destination for Wenger to sell the Dutchman. Emmanuel Adebayor, Gael Clichy and Samir Nasri have all headed north from the Emirates Stadium in recent years, the latter two shortly after City had finished above Arsenal in the league.
City are on the lookout for another forward with Carlos Tevez's future still shrouded in mystery and the nomadic Mario Balotelli unexpected to remain at the Etihad Stadium for the long haul.
Real Madrid's daily cheerleading newspaper Marca did a front plage splash indicating the club have also earmarked the Dutchman as a possible summer signing. The 'paper is known to be fed information from the club's hierarchy prior to enquiring as to the availability of players directly.
However Van Persie spoke earlier this year of his happiness in England and his five-year-old son Shaqueel is believed to be wanted by Arsenal's academy. Clutch at those straws.