Liverpool defender Glen Johnson has reignited the Patrice Evra-Luis Suarez race row by accusing Evra of not wanting to shake Suarez's hand.
At Old Trafford last month, the Frenchman and the Uruguayan came face-to-face for the first time since the latter racially abused Evra at the reverse Manchester United-Liverpool fixture in October.
And Johnson told the Daily Mail: "Evra was clever at Old Trafford. Because - I'm not being funny - but if I wanted to shake your hand I would stick it right out in front of me like that."
"But if my hand is down here, almost by my side, then it's because I really don't want to shake your hand."
Johnson pledged his support to Suarez in December, but remained reticent: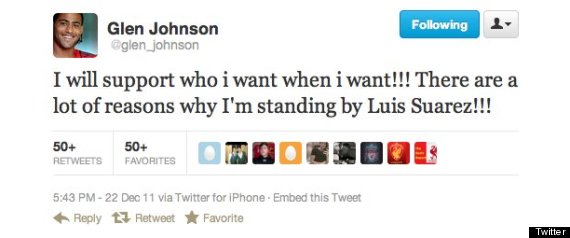 "Would you go to shake someone's hand if their hand is way down there by their side? Course not. But then, because Luis didn't do it, Evra has pulled him back by his arm as he walked on, as if to say to everybody: 'Look, I wanted to shake his hand and he didn't…' Evra probably stayed up all night thinking about how to do that. The whole thing was ridiculous."
Johnson is the first Liverpool member to speak about the matter which has dominated English football this season.
His quotes come as a surprise after Suarez apologised for refusing to shake Evra's hand. Liverpool manager Kenny Dalglish also said sorry after his behaviour during a post-match interview, when he appeared to defend striker.
Liverpool Football Club has drawn much opprobrium due to their conduct before, during and after the Suarez-Evra affair, and United manager Sir Alex Ferguson branded the Uruguayan a "disgrace" after he snubbed Evra.
Suarez received an eight-match ban and £40,000 fine from the FA for his conduct after a meticulous hearing was conducted by the Football Association.
Suarez refuses to shake Evra's hand:
href="http://www.thefa.com/TheFA/Disciplinary/NewsAndFeatures/2011/~/media/Files/PDF/TheFA/Disciplinary/Written%20reasons/FA%20v%20Suarez%20Written%20Reasons%20of%20Regulatory%20Commission.ashx" target="_hplink">The FA report stated

that Suarez's defence that he referred to Evra in a "conciliatory and friendly" manner was "simply incredible".
After Liverpool wore T-shirts in support of Suarez when warming up prior to a game against Wigan in December, ex-United defender Paul McGrath tweeted: "If I was in Glen Johnson's position, I would have thrown the shirt to the floor."
Johnson claims his skin colour was the only issue, and branded McGrath racist.
Paul McGrath tweeted his disdain at Johnson's comments: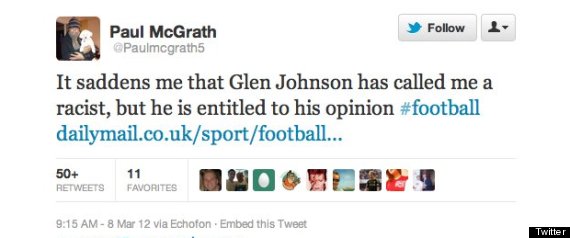 "It's only an issue because I am the only black lad in the club," he mused.
"The McGrath thing … that's actually racist. Saying what he said is racist. He is only saying that to me because I was the only black lad wearing the T-shirt. He's targeting me because of my colour."