A hosepipe ban is to be announced on Tuesday, as Britain's heads into drought.
A total of seven firms are introducing water restrictions as a result of two unusually dry winters which have left reservoirs, aquifers and rivers well below normal levels.
Southern Water, South East Water, Thames Water, Anglian Water, Sutton and East Surrey, Veolia Central and Veolia South East are all bringing in restrictions on water use in the drought-stricken South East and East Anglia regions.
The restriction on sprinklers and hosepipes is expected to come into effect within weeks and will include:
Watering of public parks, gardens and allotments
Filling swimming pools, paddling pools, ponds and fountains
Any apparatus connected to a hosepipe.
More than 20 million homes could be subject to the ban, with anyone found using a hosepipe facing a fine of up to £1,000.
The move follows a year of unusually low rainfall in the UK, with rivers throughout the country suffering a dramatic lowering of water levels, while the Met Office has recorded one of the driest winters since records began.
This weekend's unseasonably warm weather only exacerbated the problem, with temperatures expected to remain high for the rest of the week.
Some of the midlands counties, including Lincolnshire, Bedfordshire, Northamptonshire, Cambridgeshire and Norfolk, which have suffered drought conditions for more than a year, could also introduce a ban in the coming weeks.
The consequences of the drought are likely to extend to the High Street, with the lack of rain resulting in a shortfall in the production of arable crops, particularly wheat and barley.
The National Farming Union has already warned of price rises for UK-grown vegetables and fruit, while crop-based products, such as bread and beer, could also be subject to price hikes.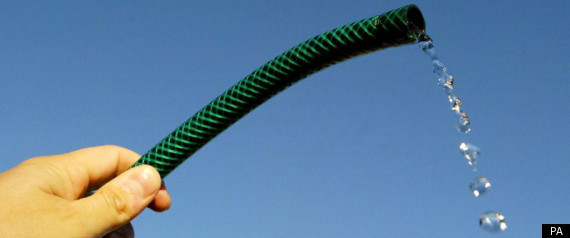 Restrictions on hosepipes and sprinklers is to be announced on Tuesday
Speaking on BBC Radio 4's Today programme, Environment Secretary Caroline Spelman said: "A hosepipe ban is more likely this year. I think people were quite surprised last year that, not withstanding the fact that it was so dry, that there were no hosepipe bans."
"We have had the second dry winter in a row. Whereas last year it was principally the farmers that were affected by the dry conditions and the public water supply was not affected, I think it is more likely that the public water supply will be affected unless we have substantial rainfall between now and the summer," she added.
On Monday, Spelman is hosting a drought summit to be attended by the water companies. "The purpose of the summit is to get everybody round the table and decide what actions need to be taken against the risk of droughts," she said.
Last month the water companies warned that hosepipe bans were on the cards, as the Environment Department (Defra) declared the South East had joined most of East Anglia in a state of drought.
Shortly afterwards, the rest of the Anglian region went into drought.
Southern Water said it was bringing in a ban on hosepipes and sprinklers for domestic customers in Kent and Sussex from April 5 for the first time since 2005/2006, following the second driest 12 months on record in the region.
The company's water strategy manager, Meyrick Gough, said: "These measures are being brought in following an exceptionally dry 12 months.
"Thanks to improvements made to our supply network, which enables us to move water from areas with a surplus to those with a shortage, our lowest ever leakage level, the ongoing installation of 500,000 water meters and customers being more water efficient, we are in a better position than we would have been in these circumstances in previous years.
"But, as the weather gets warmer, the demand for water will rise and therefore, to safeguard supplies throughout the summer we need to restrict the amount of water used in gardens."
Bewl reservoir in Kent, which supplies Southern Water customers, is only two-fifths full, and the company was given a drought permit last month to help refill it.
As a result of higher rainfall in the western part of the company's region, there are currently no plans for restrictions in Hampshire and the Isle of Wight.
Enjoy pictures of Britain basking in March sunshine: