It was a busy weekend in the Premier League. Relegation became palpable for Queens Park Rangers, while the Mancunian pendulum critically swung United's way after City's dramatic loss to Swansea, with it a half-time bust up between Mario Balotelli and Yaya Toure piling on the misery for manager Roberto Mancini.
Harry Redknapp's Tottenham stumbled again on Saturday (was it Redknapp's fault?), while Wolves' boardroom mis-management was reflected in another poor result. Liverpool lost again to send Twitter into a sardonic state over Kenny Dalglish's management.
England succeeded in Paris on Sunday afternoon in an engaging Six Nations clash, but Stuart Lancaster still isn't the ideal man for the coach's role. Warren Gatland's Wales meanwhile look set for a third Grand Slam in eight years, despite a laboured performance against Italy.
In cricket, a "goodbye" was followed by an unwelcome "hello". As "The Wall" came down on Friday, the veil was lifted on Sunday of more match-fixing machinations, with county cricket now the focus. It's just another manic Monday...
Wolves are getting what they deserve
The timing of Steve Bruce's grievances over not getting the Wolves job last week was a reminder for the Wolves board. The club's caretaker boss Terry Connor, a ludicrously desperate appointment, has seen the team take one point from three matches and concede nine goals. Whereas Connor is handicapped coming in at this stage of the campaign, the team didn't have to be. Owner Steve Morgan and chief executive Jez Moxey sacked Mick McCarthy after the 5-1 Black Country loss to West Brom. They had two weeks before the next game and arrogantly expected to be able to identify and appoint a replacement before the Newcastle game. Embarrassingly, four managers rejected them – one man twice – and so McCarthy's assistant was promoted the day before the northeast fixture. Morgan entered the dressing room to give the players a dressing down after last month's 3-0 home defeat to Liverpool, immediately undermining McCarthy's position. He and the smug Moxey are getting exactly what they deserve for such bumbling incompetence at such a tenuous time. Relegation seems inevitable, and even the captain was literally howling last week. Junior Hoilett fires Blackburn into the lead at Molineux
Technology
Two weeks on from the Milanese ghost goal came yet another. The culprit was Bob Pollock - the same linesman who gave Emmanuel Adebayor offside when he was three yards onside at Stoke in December. Should they revoke his license to hold a flag at a football match? Possibly, but the mistake should not gloss over the need for goal-line technology. One should not usually feel sympathy for Mark Hughes, but Clint Hill's non-goal may be the final nail in Queens Park Rangers' coffin. The FA released a statement on their support of goal-line technology during the match, but what compensation is that if it cannot be enforced?
Fifa and Uefa, continue to oppose its logical introduction, and their head honchos, Sepp Blatter and Michel Platini, are Francophiles still perturbed by Zinedine Zidane's red card in the 2006 World Cup final. Why is this pertinent? Because it is alleged that the fourth official at that game, Luis Medina Cantalejo, informed Horacio Elizondo that Zidane had head-butted Marco Materazzi. Blatter's absence from presenting Italy with the trophy is supposedly because he was so dismayed that France were beaten. Two plus two equals...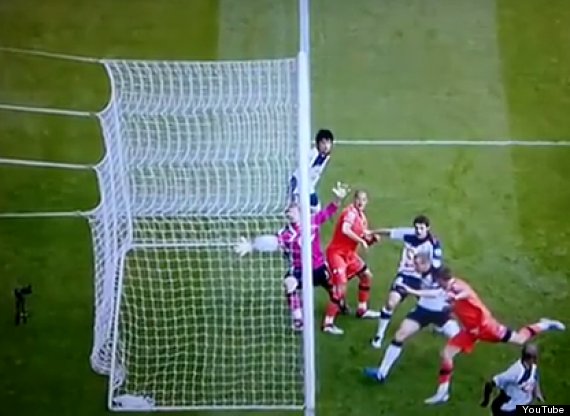 And it's in there! But it isn't...
Not fixed
Depressingly, more match/spot-fixing nefariousness was exposed at the weekend. The Sunday Times' excellent piece of investigative journalism reported how county cricket matches in England are now being targeted because "nobody monitors them". Vicky Seth, an influential Delhi bookmaker, made a statement, which could prompt the ICC and ECB to be as vigilant as a slip catcher in finding potential cheats. The trial of the three Pakistani players for spot-fixing should have initiated a stringent review of the possibility of this recurring again. Jail terms were handed down of 30 months for Salman Butt, one year for Mohammad Asif, six months for Amir and two years, eight months for sports agent Mazhar Majeed. Yet the practise is still rife, and players continue to be targeted – especially at county level, where earnings are very modest. The game needs to stand up to its responsibilities, and the latest revelation is an added concern after the recent four-month jailing of 23-year-old Essex cricketer Mervyn Westfield, who received £6,000 after he deliberately conceded 12 runs in his first over in a 2009 game against Durham.
Blue Monday
England's thrilling Six Nations defeat of France in Paris prompted the banging of the Stuart Lancaster-for-coach drum once again. It was the team's first win on French soil since 2008 in what was a tremendous victory after the disappointment of the narrow defeat to Wales two weeks ago. England have suffered an ambivalent campaign, with an improved defence coming at the cost of the attack's potency, although three tries at the Stade de France provided some remedy. But one swallow does not a summer make and those championing Lancaster's credentials appear to have forgotten past in-house appointments. Andy Robinson and Brian Ashton, the two successors following Sir Clive Woodward's reign, were inappropriate choices for the role, despite the latter guiding the 2007 team to the World Cup final. Robinson finished with a win percentage of 40.9 from 22 Tests and Ashton just 54.5 per cent from the same amount.
It is early days for Lancaster and the Cumbrian deserves to take the plaudits for rectifying the puerile and laddish indiscipline that beset the farcical 2011 World Cup campaign. However, the RFU should continue to look beyond borders for their next marriage. England's flanker Tom Croft (second right) celebrates with prop Alex Corbisiero
Tottenham
Maybe Harry Redknapp's audition for the England managerial role is perfect. Defeat after defeat with an outdated formation, square-pegs-in-round-holes and a friendly relationship with the media becoming fractious.
Tottenham were unlucky after dominating Everton in the second half of their 1-0 defeat, but their manager had already done the damage. It was remarkable of Redknapp to not only leave Luka Modric on the fringes of the game for the second consecutive week, but to then place Gareth Bale on the right wing? Unsurprisingly, the Croat couldn't dictate play while the Welshman was stuck for ideas against the Toffees. Last season Bale struggled against Phil Neville, and this may have influenced his manager's thinking, as well as the quandary over how to manage Aaron Lennon's absence. But their two best players were out-of-position. All Redknapp had to do was start the versatile Niko Kranjcar on the right side of midfield. He never addressed this issue until the dying moments of the game, but Spurs had no suitable outlet on the right despite Bale switching flanks.
Louis Saha came on for Emmanuel Adebayor, Rafael van der Vaart replaced Sandro and Jake Livermore for Scott Parker, but not one change rectified the balance. Redknapp has opted for four-four-two since Saha's double against Newcastle, but Tottenham lost their next two games and the flatness of their system was obvious. Still he persevered and still they lost. Nikica Jelavic celebrates his first Everton goal in the 1-0 win over Spurs
Injuries to the influential Van der Vaart and Lennon have upset the rhythm, while Saha's potency has lulled the ex-Portsmouth manager into a false sense of security. For myth lovers, this is called the Faustino Asprilla Effect. But, to debunk that myth, it was the manager who was responsible for his team's downfall. Just like now.
Afterwards the 65-year-old was uncharacteristically aloof when questioned by the BBC's Guy Mowbray. Redknapp has not been seen that upset since Mark Birchall kicked a ball at him during his first stint at Pompey, so the pressure is telling. Having ludicrously touted Spurs' title credentials, he is now preaching that the real target was 3rd place, when that should always have been the priority.
Maybe, just maybe, he will be subjected to the scrutiny he warrants after a series of unavoidable errors.
Influential Spurs blog Yids was not impressed by Redknapp:
May day
QPR's seminal loss to Bolton, coupled with the top two's contrasting fortunes on Sunday led to an air of the season finale in the Premier League. The ramifications at the Reebok Stadium relegation battle may be severe, while the roar at Old Trafford when Luke Moore nodded in the winner against Manchester City was arguably louder than either of Wayne Rooney's two goals. Television ensures that both sides rarely play at the same time, while the uncharacteristically warm Mancunian weather and Sunday fixture heightened the crunch feeling.
The league has got better as a consequence of getting worse, so while continental supremacy is unlikely this season, the fight for domestic supremacy continues to enthrall viewers. That fading Premier League brand is now a rollercoaster that just won't stop.
Gallery of City and United's contrasting fortunes on Sunday: