She's usually known for her ghetto get-ups or bubblegum-pop looks, but Cher Lloyd is obviously going through a delayed experimental phase as the teen gothed up on location in LA to film her latest video.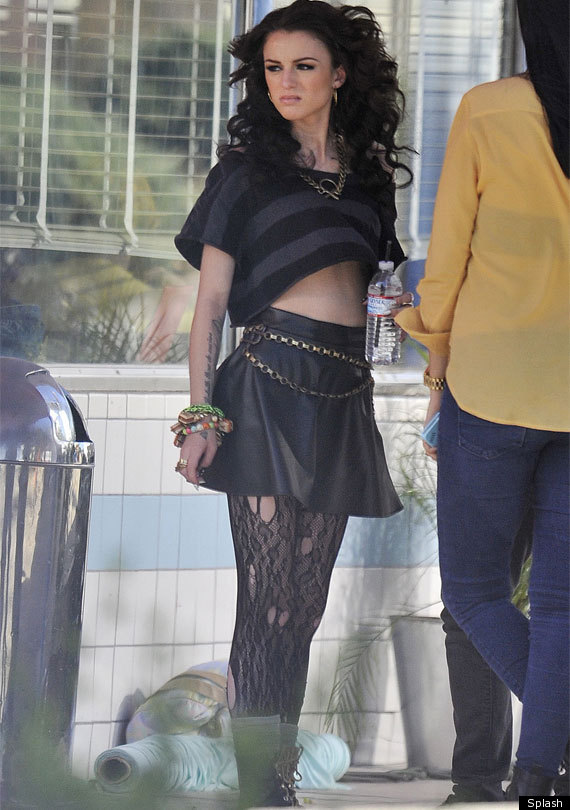 She looked like she'd raided Blue Banana as she donned a leather skirt and ripped lace tights, complete with chains hanging from her waist.
And it certainly looked like she'd got the "leave me alone, I hate everyone" bit of being a goth down pat.
Snarling in typical Cher style, she was less than impressed to see that the paps had turned up to catch a glimpse of the new shoot.
Or perhaps she was still upset about the fact she no longer has a room to call her own at home.
Cher recently told The Sun how mortified she was to hear her parents had changed her old bedroom into a dining room.
She told the paper: "I had to move to London for work reasons and like a week after I left my lovely bedroom had become a dining room. I was mortified.
"They must have been measuring up and shopping for dining room furniture before I'd even moved out.
"I know they miss me being around. They try to act like it's all cool but I know they do. They'd rather me be home with them."
> ENTER OUR COMPETITION TO WIN A GHOST HUNTING EXPERIENCE
CELEB PICS OF THE DAY