Rihanna has tried to set some crazy trends in her time - you just have to look at yesterday's see-through jumper to realise that.
And now Ri-Ri is on a one woman mission to make the 90s fashionable again by bringing back the bum bag (or 'fanny pack' as they like to call them in the States) *sniggers*.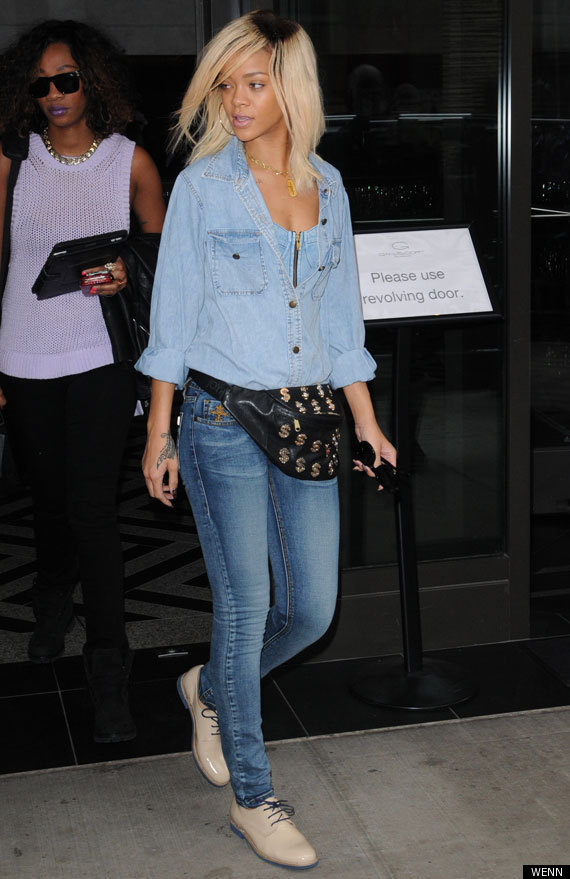 But while we've been distracted for the last 20 minutes singing "she's got her fanny pack" to the tune of Justin Timberlake's SexyBack, we're not quite sure if we're ready for a revival just yet.
The singer was sporting a dollar sign encrusted number as she stepped out on the streets of Manhattan yesterday.
But she was also experimenting with another dodgy trend too - multiple denim.
And obviously never one to do things by halves, Rihanna opted for not just double denim, but TRIPLE denim - wearing jeans, a basque and a shirt.
What would Auntie Gok say?
And while we're picking over her look, considering she's only just had a new weave put in, surely someone could have slapped a bit of peroxide on those roots?
Meanwhile. Chris Brown's current girlfriend has spoken out about the death threats she has been receiving from Rihanna's fans.
According to website TMZ, one crazed fan tweeted Vietnamese model Karrueche Tran: "I hope Rihanna beat the dog shit outa yo ass!", "Watch yo back" and "I will kill you."
Sources close to her now claim she "now refuses to leave her house without Chris Brown's hired muscle by her side."
> ENTER OUR COMPETITION TO WIN A GHOST HUNTING EXPERIENCE
CELEB PICS OF THE DAY