London's homeless combined with art tends to conjure a notion of chalk drawings on a pavement, not the luxury of Somerset House and glasses of champagne.
But inside the building's East Wing, artists - both homeless and house-hold name - have offered up their commissioned work for Crisis charity, and are proving how creativity really can rebuild lives left on the street.
For the artists who have offered their work to Crisis, this is no mere publicity stunt. It doesn't take long for Tracey Emin to explain her appreciation of the charity while showing me her work. It's the first time she'd seen the two new drawings hung.
"They're brand new, I did them a few weeks ago," she tells me. The large nudes, Deep Blue III and Deep Blue IV are classic Emin – large, expressive blue line drawings of reclining women, created in her East End studio not far from Crisis's headquarters.
"Crisis aren't a lazy charity," she says, "They've done this in a very wise way – they've commissioned us, so we've created new drawings, it's how things should be."
"Artists get asked all the time to donate their work, but Crisis have been imaginative – when we donate work, it's not just a picture we're giving, but finances too. It is a real gift, this is our work."
Along with the two new drawings, Emin has also created one of her famed neons to complement the turquoise Trust Me, a coral pink, italic Trust Yourself, which she muses on as "pretty". It is.
"It's semi-serious, I think it's a bit jokey – because who can really trust themselves? Often in life you can't. I wanted to give them neons because they sell very well, and I wanted to give Crisis a lot."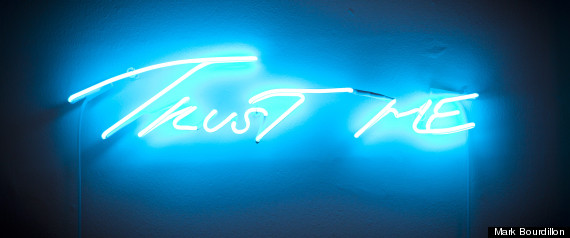 Tracy Emin's Trust Me
Jonathan Yeo, the painter famous for depicting world leaders such as Tony Blair, David Cameron, and, notoriously, George Bush, shares Emin's enthusiasm.
"As an artist you can be hit up by charities every week, and often it can be something so random. But as Londoners, we're aware of the issue of homelessness – we have time to digest it. Crisis gives homeless people something to do in the daytime through art spaces, it's not just about feeding people.'
Yeo takes me into the second room to show me his painting, Park Bench. It is a double portrait, based on Gainsborough's Mr and Mrs Andrews, "a portrait of showy nouveau society", which hangs in the city's National Gallery. Except it is of two of the homeless people Crisis work with, Sharon Stacey and Ben Scallon, and it is by a park bench in East London's Victoria Park, an athletic stone's throw from the Olympic site.
Johnathan Yeo's Park Bench
"I'm particularly aware of how much the area's being whitewashed ahead of the Olympics", Yeo explains, "in Victoria park, there are areas which are cordoned off for growing flowers, and neo-classical benches, but it's one of the more interesting parks because it's surrounded by council housing and tower blocks."
For Yeo, painting rough sleepers also made a change from his usual sitters.
"For me, it's a way of trading my reputation to do the opposite from the big names." Scallon and Stacey are objects of refinement in an otherwise loose landscape, defined as people, rather than by their homelessness.
While Stacey is pictured in a drab coat in Yeo's work, today she's in a bright pink jumper and anorak, topped off with a purple baseball cap, worn backwards. An artist herself, she's impressed with the work, saying "it's one of the best forms of myself I've seen."
For Stacey, Crisis' art workshop in East London's Commercial Street has at times been her home, in between the four years she's spent in squats - "quite fun, but there's a rough side to it" - and now she's in a hostel.
A regular artist at the space since 2006, she says: "Sometimes I get lost, but the art room's always there. It's somewhere I can just go and be me."
Scallan is also at the opening. Homeless for eight years, unlike Stacey he's never been a sitter before, although he is a painter and has sold work whilst self-educating to get into college.
In many ways, he and Stacey are poster-people for Crisis Skylight, an initiative which helps aid the mental illness which arises from homelessness through creative expression. With seven centres throughout the country, the tutor-led classes and facilities are working – just under 1000 Crisis members were awarded a qualification last year, and over 300 found employment.
Elsewhere in the East Wing, Nika Neelova's Partings dominates a room. A huge installation, it is made of concrete casts of one of Somerset House's six-panel Georgian doors.
"They loaned it to me for a week," the artist tells me. "For me, it was always important for the work to be site-specific. While Somerset House is palatial, it's about contrast – here are doors taken out of their doorframes, it's about dispossession and isolation."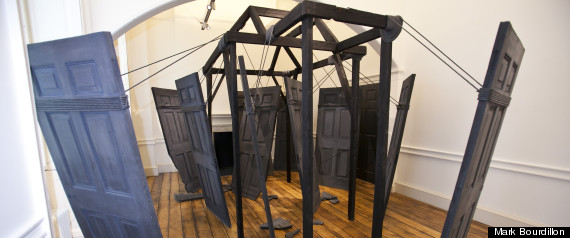 Nika Neelova's Partings
Crisis is the first charity Neelova has worked with, an opportunity she calls an honour as well as an inspiration.
"I really admire what they do – at the start of the project I went and met the clients, and see what they do. They help people back to life through art, it's inspiring."
William James West is living proof of this. His work, Soup Run, is the first in the exhibition, next to work by other Crisis-aided artists Thomas Herold and Richard Grecian. When he was orphaned and made homeless at 29 he says he went from "having everything to nothing".
"Art has been good therapy for me, I spent 15 years in a very dark place, I was emotionally scarred."
Now he's a volunteer who makes art and writes plays. His painting is an abstract piece which depicts an argument between two homeless people - "on a mixture if drink, drugs and social issues" – it's made with powdered soup and acrylic.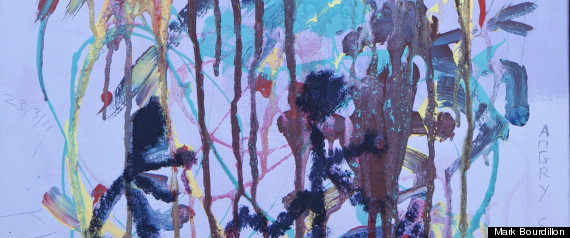 William James West's Soup Run
Homelessness is shown in unlikely and beautiful ways in The Crisis Commission. The harshness of existence is shown through Anthony Gormley's Cast Iron robot-figure Contract and Anthony Caro's steel Down Centre, which looks like a distorted ripped-out stairwell.
But an unlikely childishness appears in Bob and Roberta Smith's Kite, a giant, floor-dominating kite with a brightly-coloured bunting tail and Andy Anderson's My Life Through Art is a series of pencil and biro doodley works, smacking as much of innocence as isolation.
Gillian Wearing's painted bronze of another of Crisis' homeless artists, Craig O'Keefe, is trophy-like – standing proudly on a marble plinth, the statue holds a sign, 'Served in Kajaki, Afghanisatan', above a plaque which tells his story, like a school medal of survival. Yinka Shonibare's Homeless Man, however, is of an anonymous figure with a globe for a head, and the weight of a dozen suitcases on his back.
Anybody who thinks that art can't make a difference would be proved wrong by this exhibition. Yes, there will be a lot of money, in the millions, no doubt, raised for a worthwhile cause. But the fact that homeless people can not only inspire the work of famous artists, but exhibit on the same walls as them, is one which is true testament to Crisis' efforts. This isn't just another charity auction.