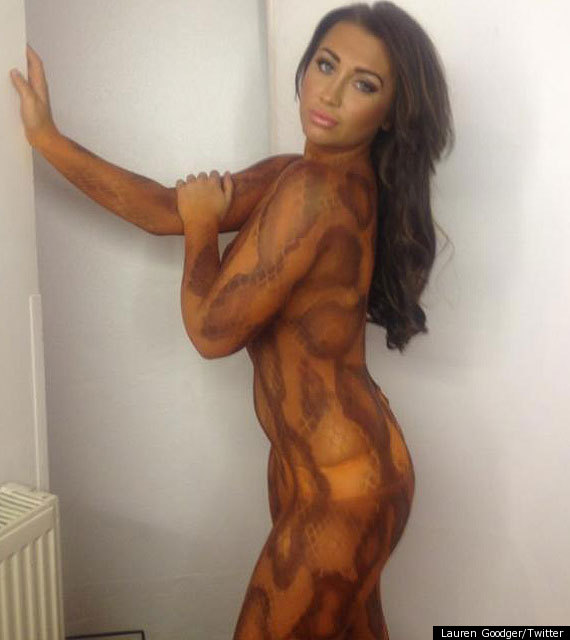 It's not exactly a surprise to see Lauren Goodger sporting patchy, orange skin - she's had her fair share of FTD's (Fake Tan Disasters) over the years after all - but this time the TOWIE star's skin is actually meant to look like that.
Phew.
Lauren tweeted the pic of her body covered in a snakeskin design from the shoot of PETA's new ad campaign, which Lauren is the face - and body - of.
The reality star tweeted: "Just body paint for my @petauk shoot today wow took hours paint this on! This just a teaser for u guys can't wait c it x"
It was only last week that Lauren revealed how unhappy she was with her body before stripping off for an underwear shoot for the Daily Star.
She told Heat magazine she felt 'fat' after going from a size 8 to a size 12:
"I feel so fat," she told the mag. "I don't know what to do - I want to lose weight but I can't. I think about [my weight] all of the time - from the moment I get up, but I still struggle to do anything about it.
"I've tried boot camp, had a personal trainer and a nutritionist but I just start eating again. I have a problem."
Doesn't look like it to us, Lauren.
Follow Baggers Bites on Twitter
CELEB PICS OF THE DAY