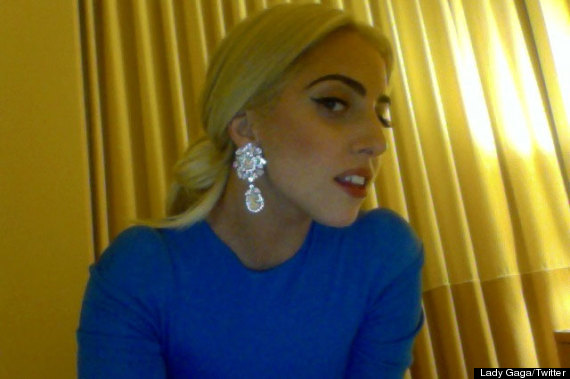 We're so used to seeing her wrapped up in cling film or dangling a rump steak from her gusset that we're more shocked when Lady Gaga looks, well, normal.
The Queen of Pop looks like she could pass for a member of the royal family with her new regal look.
Gaga covered up in a high neck, royal blue top and weighed her lobes down with some serious bling as she posted the snap to Twitter.
But don't be fooled, Gaga's been raiding the aisles of her local Pounland again, as she revealed they were actually made of plastic.
She tweeted: "Miss you monsters. About 1 month until tour. Whatdya think of these fake baubles? #DirtCheapPlasticLooksFantastic."
> ENTER OUR COMPETITION TO WIN SIGNED JAMES MORRISON ALBUMS
LADY GAGA'S CRAZIEST LOOKS