Facebook has come under fire after a picture of two men kissing was apparently removed from the site because it infringed publishing rules of posting images of a "sexual" or "delicate" nature.
The snap was uploaded by Madrid-Based Visible Cultura LGTB to promote its Gay Arts Looks For A Home documentary.
But it was taken down for reportedly breaching decency codes, which bar images of a "political, sexual or other sensitive" nature, El Pais reported.
Facebook has claimed the image was removed as the result of a technical issue and the social networking giant is investigating.
Visible Cultura has since replaced the image – with a CENSORED stamp across it.
The page administrators have posted a response: "Can a kiss between two men be inappropriate?
"Apparently, Facebook thinks so. This image has just been censored when LGTB Non Goverment Spanish Culture Association VISIBLE tried to use it in a paid add (sic) in Facebook to promote a crowdfunding project. The image is by artist Juan Hidalgo.
"Until when are we going to put up with this Facebook nonsense? Are we really in the 21st century?
The documentary being promoted by the group, "brings together a thousand works of gay and lesbians donated by over four hundred artists from thirty countries," El Pais said.
Twitter users have criticised Facebook for its actions.
Visible Cultura have since replaced the original image (above) with the 'censored' version below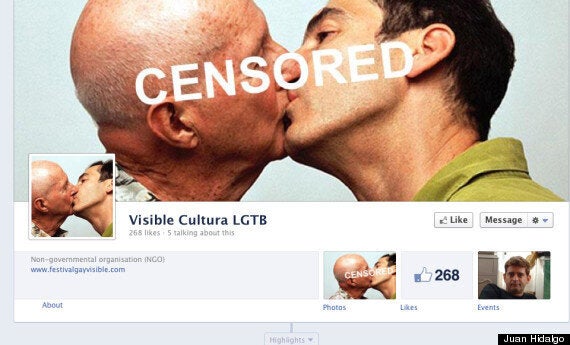 Check out some of our favorite same-sex kisses below: