Large swathes of Britain continued to bask in glorious spring sunshine on Sunday as the majority of the country completed a weekend of fine weather.
It was Scotland's turn to record the highest temperature in the UK, with the mercury rising to as high as 72F (22.2C) at Fyvie Castle near Aberdeen in the north-east of the country.
This meant that the UK continued to be warmer than more southerly parts of continental Europe, including Barcelona, Nice, Majorca and Faro in Portugal, none of which saw temperatures rise out of the teens Celsius today.
But other parts of the North Sea coast would have been hard pressed to notice it was spring at all, with lingering fog keeping temperatures down around 42F (6C) in East Anglia and Kent.
The warm and dry weather is set to continue during this week, forecasters at MeteoGroup, the weather division of the Press Association, said.
But temperatures will decline back to a more seasonal average of 51F-53F (11-12C) by next weekend, from an average of 62-64F (17-18C) this weekend.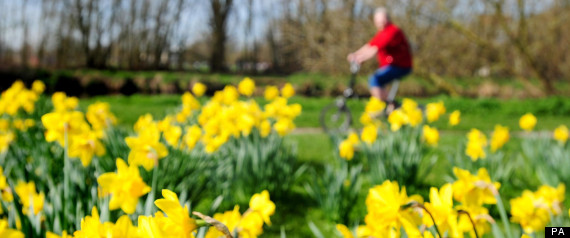 Forecaster Lindsay Dovey said that there was a contrast between the south and east of England where temperatures were low and areas like Scotland and Wales, which saw temperatures of 68F (20.1C) at Gogerddan on the west coast of Cardiganshire.
"It has been quite cold today around East Anglia and East Yorkshire, she said.
"The reason is that fog has been lingering in these areas, which has not allowed the sun to get through and heat up very much at all."
The temperature at Manston in Kent struggled to just 42F (6C) at 2pm this afternoon, with Weybourne on the north coast of Norfolk only managing 43F (6.4C).
At Kew Gardens in west London the maximum temperature was 57F (14.1C) at 2pm this afternoon, compared to 67F (19.6C) recorded yesterday. But that did not stop people getting out and enjoying the sunshine in parks and on the rivers, from the River Trent at Burton in Staffordshire to Hampshire.
"It will stay dry and sunny until Thursday, when there will be a bit of rain in western Scotland," Ms Dovey said.
"As far as the rest of the UK is concerned it will remain dry, but it will turn cloudy at the weekend."