This is the moment a five-year-old girl was gunned down as she played in a south London shop.
The footage of Thusha Kamaleswaran was released for the first time on Monday following the conviction of Nathaniel Grant, Kazeem Kolawole and Anthony McCalla of causing grievous bodily harm.
Kamaleswaran was left permanently paralysed after the gang-related shooting at her aunt's shop in south London in March last year.
In CCTV footage from the store, the little girl is seen playfully dancing in one of the aisles at Stockwell Food and Wine before panic breaks out and adults rush to the back of the store to escape gunfire.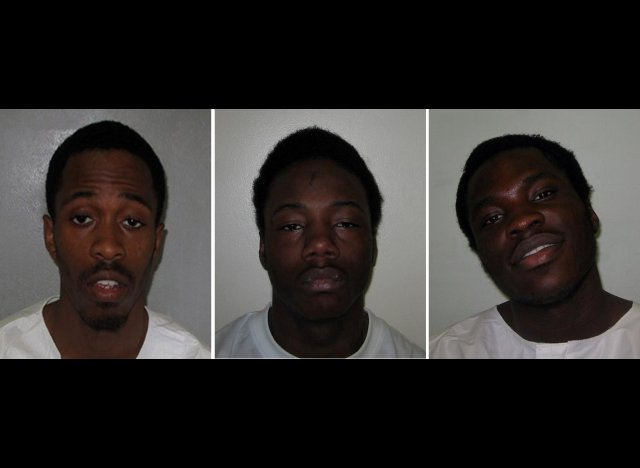 Nathaniel Grant, Kazeem Kolawole and Anthony McCalla who were found guilty today of a gang-related shooting that left a five-year-old Thusha Kamaleswaran permanently paralysed
Thusha, wearing a red cardigan, can then be seen slumped on the floor at the bottom of shop shelves, with her arm moving.
The footage formed part of the evidence in the Old Bailey trial of three men accused of the shooting but has only been released publicly for the first time today.
Jurors were warned before they were shown the film that they may find it disturbing.
Prosecutor Edward Brown QC told them that they must view it with a "clinical eye" and remain objective.
In the CCTV clips, Thusha is seen skipping in the aisle, and as the shooting starts, she is surrounded by adults rushing to the front of the shop to see what is happening.
They then retreat to the back of the store to escape the gunfire, to reveal Thusha slumped on the floor.
Her uncle Mahadavan Vikneswaran grabs her and carries her to the back of the shop.
Parts of the chilling footage showing shopper Roshan Selvakumar being hit in the face by another stray bullet were not publicly released.
In clips shown to the jury he can be seen staggering back on to shelving and blood pouring from his head, before he retreats to the back of the shop, still bleeding heavily on to the floor.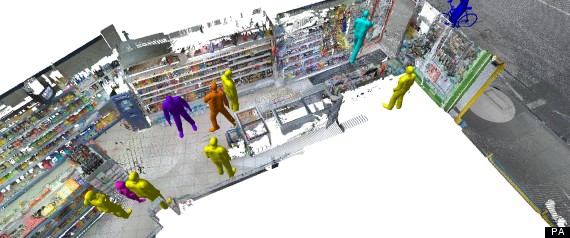 A computer generated graphic showing where everybody was standing inside Stockwell Food and Wine.
Thusha twice went into cardiac arrest after a bullet passed through her body during the attack.
It hit her in the chest and then passed through the seventh vertebra of her spine, leaving the little girl, now six, permanently wheelchair-bound.
Selvakumar was left with bullet fragments lodged in his head which cannot safely be removed.