Mies van der Rohe, the architect responsible for some of the most iconic buildings in America was today honoured with his very own Google doodle.
The new design - published on what would have been the German's 126th birthday - depicts that SR Crown Hall at the Illinois Institute of Technology, one of his most famous designs.
A pioneer of modern architecture whose style was deemed 'too modern' by Adolf Hitler, 'Mies' left his native country in 1937 to emigrate to America.
There, he was declared a visionary and went on to design several iconic American buildings including the Martin Luther King Library in Washington DC, the Seagram Building in New York and Houston's Museum of Fine Art.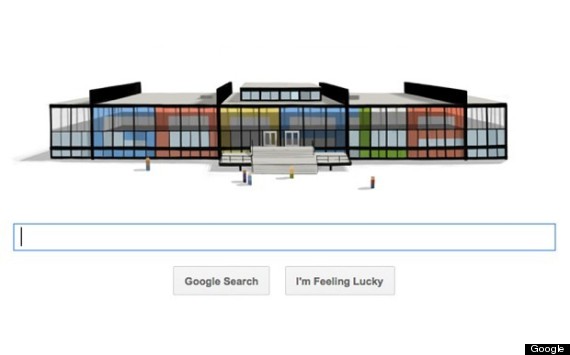 The Mies van der Roh Google doodle
The work chosen by the artists at Google however was the SR Crown Hall - Mies' 1956 masterpiece that features an exterior made entirely of his signature steel and glass.
Hailed ever since as one of the most important architectural achievements of the 20th century, it was given an award-winning restoration in 2005 but remains otherwise unchanged from Mies' original vision.
The doodle sees the ubiquitous Google letters encased inside the building's famous front - something that would no doubt have satisfied Mies' love of sleek lines and compact designs.