Bradford City and Crawley Town entered football's history of violence annals last night as five players were sent off... in the dressing room.
A post-match brawl following the visitors' win at Valley Parade saw Bradford's Andrew Davies, Luke Oliver and Jon McLaughlin red carded, and Crawley's Kyle McFadzean and substitute Claude Davis dismissed.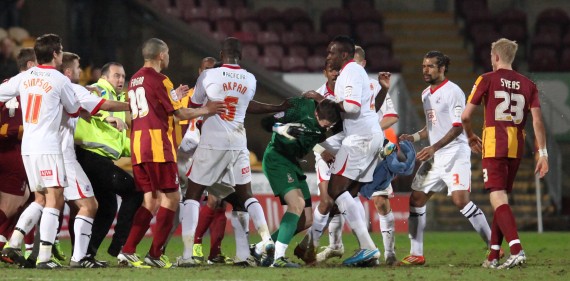 Crawley manager Steve Evans claimed he saw a Bradford player throw a punch. BBC Sport report he said: "I think it was handbags, with a lot of pushing and shoving, but it was disappointing to see.
"If people have acted out of turn they need to be dealt with.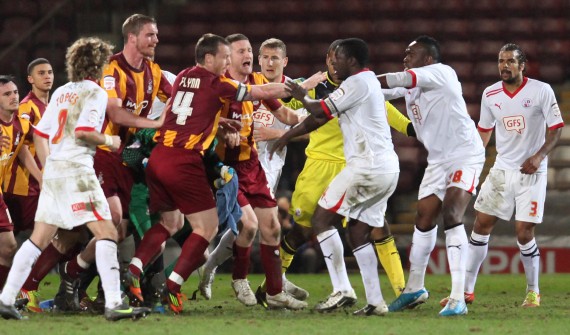 "The fourth official confirmed to me that the Bradford boy ran and punched somebody. Then there was a mass of bodies who had initially come together to shake hands.
The FA are yet to release a statement but are understood to comment on the fracas today, with an investigation expected.
Irrespective of the punishments meted out, few things in football prompt an adrenaline surge more than a warring melee between two teams.
So enjoy the following bedlam across the world...
Battle of Santiago, 1962
"Stupid, appalling, disgusting and disgraceful" was how the BBC's David Coleman described Chile and Italy's battle at the 1962 World Cup.
The first foul came within 12 seconds of the kick-off and the violence was unrelenting. Officiated by Englishman Ken Aston, Italy's Giorgio Ferrini was sent off in the 12th minute after a foul on Honorino Landa, but refused to leave the pitch and had to be dragged off by policemen. Landa retaliated with a punch few minutes later, but was not sent off. Aston later invented yellow and red cards, but handcuffs would have been more appropriate for this game.
Francis Lee v Norman Hunter, 1975
When men were men. No wonder many get all nostalgic about football in the 70's and yearn for the end of tedious tackling debates.
Hunter had given Lee a right hook which resulted in the pair being dismissed, but then they carried on. Going at it like two heavyweights, Derby manager and legendary hardman Dave Mackay even intervened.
Manchester United v Arsenal, 1990
It is testament to Nigel Winterburn's veneer that Sir Alex Ferguson once cited him as the antagonist who instigated the Arsenal-United rivalry. Having goaded Brian McClair after a missed penalty at Highbury's North Bank in 1988, he was reacquainted with 'Choccy' a little over 18 months later.
When Winterburn executed an overzealous challenge on Denis Irwin, it offered McClair the opportunity to gain revenge. And in the Scot's case, a vengeful dish is best served by repeatedly kicking your nemesis in the ribs. It sparked a 21-man brawl on the Old Trafford turf, as punches were thrown from both sets of players and the game was held up for 10 minutes.
Chelsea v Arsenal, 2007
Even a trophyless and lightweight Arsenal can't resist the odd physical bout. So different was English football 17 years on from the aforementioned Old Trafford exchange that the Gunners and Chelsea's duel was instigated by two African players.
Kolo Toure took unkindly to John Obi Mikel's overzealous tackle, Frank Lampard intervened, Cesc Fabregas took on Lampard and soon enough Jose Mourinho and Arsene Wenger were sprinting on to the pitch. Mikel, Toure and Emmanuel Adebayor were all sent off, but not Wayne Bridge, despite some terrible cheating to get the latter red-carded.
Argentinos Juniors v Fluminese
Back to South America, where the touchline cameramen earned his crust with some outstanding guerrilla footage.
At the Diego Maradona Stadium, Argentinos Juniors had just conceded a late penalty to Fluminese and, as you can see, they were not pleased about it.
Barcelona v Real Madrid, 2011
Few punches were thrown, but in the Supercopa (Spain's equivalent of the Community Shield) Madrid were keen to dish out their brutal force upon Barca's brittle bones.
Cesc Fabregas, making his debut for the Catalan side, was cruelly scythed down by Marcelo right in front of the two sides' dugouts. Many attempted to weigh in, with Mourinho getting involved by poking Blaugrana assistant Tito Vilanova in the eye. Some curtain raiser.