A picture of officers fooling around with a police firearm has distressed the family of Pc Ian Terry, who was shot dead during a bungled training exercise in June 2008.
The photograph features two police officers from Pc Terry's former unit, one pointing a shotgun at the buttocks of another officer, who is jokily posing on the bonnet of an armoured vehicle.
The two officers are from the GMP Tactical Firearms Unit and have since been removed. Although disciplinary action is said to have been taken, the officers have not been sacked.
The photo was said to have been discovered on a computer during an unrelated raid on an officer's home.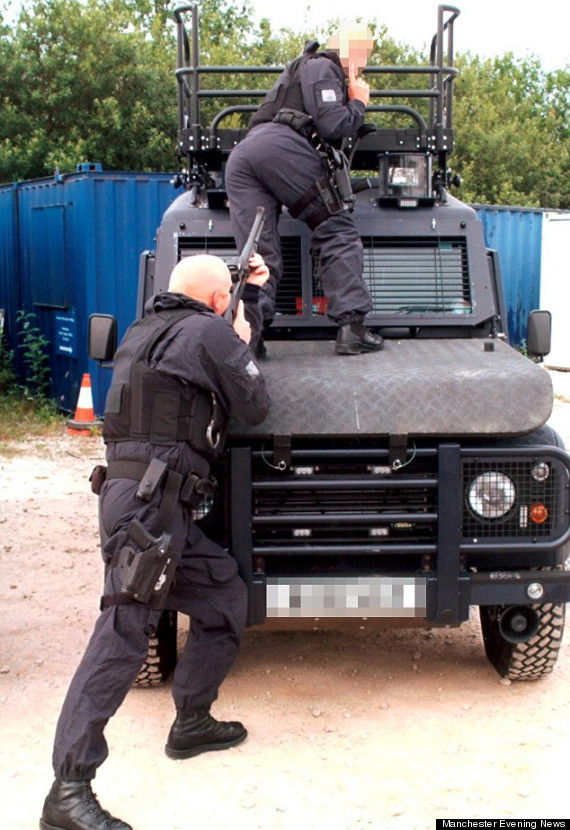 The picture distressed Pc Ian Terry's family
The image was taken just a month after an inquest ruled that Pc Terry, 32, was unlawfully killed while on duty with Greater Manchester Police (GMP) in June 2008.
His family have said they are "extremely distressed" about the photograph.
In a statement issued on behalf of the family - including his widow Joanne - James Reilly, of Ralli solicitors, said: "These images are clearly distressing to the family and highlights that GMP, and in particular the tactical fire arms unit, haven't learnt anything from the circumstances surrounding the tragic death of Ian Terry. Pc Ian Terry, who was killed in a bungled training exercise
"The family understand from GMP that the photograph was taken 18 months to two years after Ian's death, which would be at the same time as the inquest was being heard (March 2010).
"The inquest heard that there were systemic failings in both the planning and operation of the exercises. A jury returned a verdict of unlawful killing and, following investigations conducted after that verdict, the HSE decided to prosecute GMP and two officers involved under the Health and Safety at Work Act.
"The CPS decided not to charge any of the officers only three weeks ago.
"Ian's family are extremely distressed at the sight of the image released today. They feel that, following the death of a fine young officer, other officers feel it somehow appropriate to fool around during training exercises."
Deputy Chief Constable Ian Hopkins said: "Greater Manchester Police expects the highest professional standards from all officers and staff and clearly this falls well short.
"This matter was dealt with quickly as soon as it came to light in June 2011 and the three officers involved were removed from the firearms unit.
"Their conduct let themselves, their colleagues and the rest of the force down."
Earlier this month, the Health and Safety Executive announced it was prosecuting the force and two of its officers over alleged breaches of safety laws in connection with Pc Terry's death but the CPS ruled there was insufficient evidence to bring criminal charges against the officer who shot Pc Terry or GMP.