Ray Wilkins, the former England captain, has said the Football Association should have suspended John Terry from England duty, rather than just strip him of the captaincy.
The Chelsea skipper was stripped of the armband in February after his trial for allegedly racially abusing QPR defender Anton Ferdinand was delayed until July, enabling him to participate at the European Championship.
But Wilkins, speaking to The Huffington Post UK, suggested Terry's antics at the 2010 World Cup - when coach Fabio Capello said he made a "very big mistake" for calling upon senior players to stand up to the England manager - could recur.
"If he's going to be stripped of the England captaincy, he should have been kicked out of the squad altogether, because the influence will still be there," he stressed at Barclays Cycle Hire bikes launch in Regent's Park on Thursday.
"If he's not captain he will still conduct himself as a captain. The FA really wanted their cake, and ate it too [stripping him of the captaincy].
"I honestly believe if they were going to take the captaincy off him then don't take him [to the Euros]."
Terry was injured for the February friendly against Holland, but his former coach at Chelsea remains adamant he will travel to Ukraine and Poland because he is "professional" and "loves playing for England".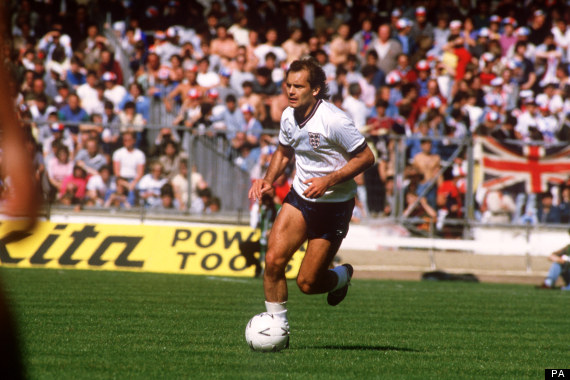 Wilkins won 84 caps for England
Reports this morning suggest interim England coach Stuart Pearce is in contact with Premier League managers in regards to the fitness of potential squad members for Euro 2012, fuelling speculation he will lead his country into Eastern Europe.
Wilkins, who made his final England appearance the year before Pearce made his Three Lions debut, insists he should remain in charge, and no coach will be "parachuted" in, as Sir Trevor Brooking suggested.
"They would have tied that up [appointed a new coach] if Stuart wasn't going to take them to it," the 84-times capped international asserted.
"Stuart's right to prep for it as well, because if all of a sudden they give him the gig he's got to be well organised because the players will need to be organised.
"The organisational setup at championships if very important. For the FA to take it off him now would be a mistake. He's been with Capello and done a few tournaments with the Under-21s as well."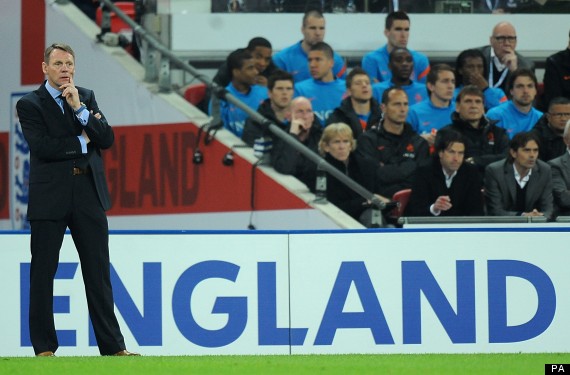 Pearce watches on as England lose to Holland in February
Dismissed by Chelsea as assistant manager in November 2010, Wilkins has seen the team stumble under Carlo Ancelotti and the Italian's replacement, the recently sacked Andre Villas-Boas since his departure.
The Blues have however progressed to the last eight of the Champions League and won by a goal to nil against Benfica in Lisbon on Wednesday. Under Roberto Di Matteo, they have kept four clean sheets from seven games, but it is a familiar name Wilkins cites as integral to the club winning their first European Cup.
"The lowest common denominator is John Terry," the 55-year-old said.
"When John Terry doesn't play there's no clean sheet, when he does play, there are clean sheets. He's an organiser of people and he's a vital cog in their setup. When he's not there, they struggle."
With Chelsea not competing for the Premier League title as a result of their poor domestic form, the winner will come down to one of the two Manchester clubs - City and United.
Now a pundit for Sky Sports, Wilkins has followed the title race closely this campaign, and has plumped for his former club to win it.
"Manchester City have been magnificent this year and up until Christmas they were awesome. Every side has this little stutter whereas United always come strong in the second half of the season. So I fancy them to win it."
Ray Wilkins was speaking at the launch of Barclays Cycle Hire bikes specially-branded for each of the capital's Barclays Premier League clubs. Fans will be able to see the bikes in Barclays branches near the grounds until the end of the season. www.barclays.com