The funeral for an exiled Tibetan protester who set himself on fire in protest at a visit from the Chinese president to India takes place today.
Jamphel Yeshi, suffered 90% burns to his body. He is one of at least 25 Tibetan protesters who have set themselves on fire to protest against China's rule in Tibet, one of the longest-running political feuds in the world.
Yeshi died in hospital on Wednesday, two days after his protest. Today thousands of Tibetan exiles chanted prayers and slogans at the 27-year-old's funeral in Dharmsala.
The service began with a rendition of the Tibetan national anthem and was followed by prayers. In accordance with tradition, Yeshi's body was anointed with ghee and aromatic herbs before being draped in a white sheet and set on a pyre.
Crowds chanted: "May Martyr Jamphel Yeshi's name be immortal," AP reported.
Self-immolation is a common form of protest for Tibetans, particularly monks. Yeshi is the second man to set fire to himself in India this year over the issue.
Dhondup Lhadar, an activist with the Tibetan Youth Congress told AP Yeshi was a "martyr." "He will live on to inspire and encourage the future generations of Tibetans."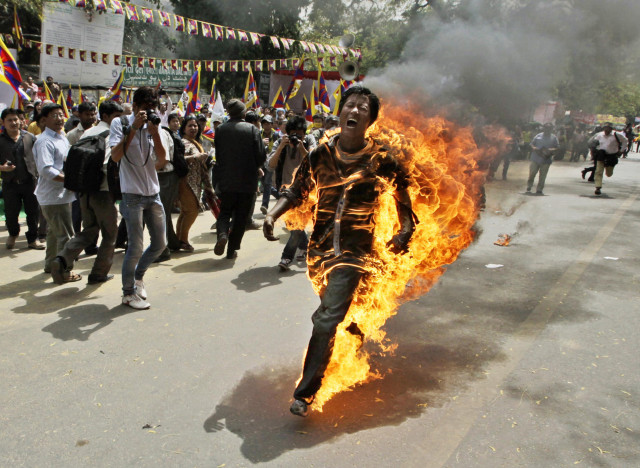 Yeshi carried out his self-immolation protest on Monday
China's President Hu Jintao arrived in New Delhi for a summit on Wednesday afternoon.
According to reports hundreds of Tibetan activists in the country had been rounded-up ahead of the Chinese premier's visit.
Speaking to The Huffington Post UK on Monday, Philippa Carrick, the chief executive officer of the Tibetan Society in London, said that the incident in India was "indicative of the strength of feeling and solidarity Tibetans in exile hold for their family and kin inside Tibet".
"Sadly it would not surprise me if this was not an isolated incident," she added.
"Until China, through their own will or through pressure from world governments, begins to address the underlying grievances held by Tibetans, such drastic acts will not stop. After 60 years of occupation, Tibetans are clearly signposting they have had enough."
Scroll down for pictures of Yeshi's protest. WARNING: SOME VIEWERS MAY FIND THE IMAGES DISTURBING