Robbie Williams is to become a father, he has confirmed.
The Take That star announced the news on his official blog today.
He wrote: "I've been keeping a secret from you all... Me and Ayda are going to be mummy and daddy this year. We had sex! It works!"
He added: "We've seen scans and cried... Looked at babies in commercials and teared up. The nursery is already planned. Basically I'm in love with a little person growing in mummy's belly and can't wait to be a daddy... Crying now. Much love much joy. Roberto, mum and little bump. XXXXXX."
Here is the proud father's blog post in full: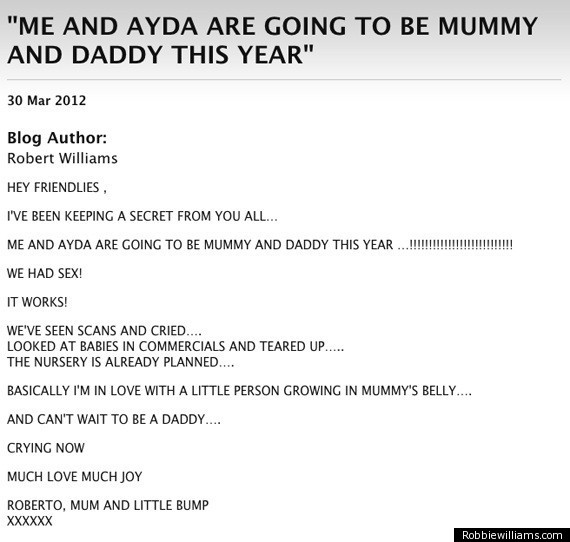 Long-time friend and performer Jonathan Wilkes was one of the first to offer his congratulations on Twitter.
The announcement comes in the same month the happy couple apparently viewed the house where Michael Jackson died.
Undeterred by the $23.9m (£15.1m) price tag, the singer and his wife were spotted at the Holmby Hills mansion last week, TMZ exclusively reported.
Pictures of the delighted parents to be
And there could be more tiny feet on the way - as the sprawling property has seven bedrooms.
The 13 bathroom pad is only being viewed by buyers who can prove they have enough cash to afford it, something Robbie, who is worth around $149m, (£94m) will have no trouble with.
The house - where Michael lived with his three children until his death in June 2009 - has been on and off the market seven times since the singer passed away.
The price has dropped again since the last time it was up for sale when the asking price was $29m. This is way down on the $38m which it was sold for back in 2008.
It features the luxury of an outside pool, a guest house and even a lift.
Last year the contents of the house went on sale and fetched nearly $1m at auction.
Among the things sold were a chalkboard which Michael's children had written "I love daddy" on and an armoire upon which MJ himself scrawled a message.
Is this where Robbie and Ayda are planning to raise their baby?