Ashton Kutcher serenaded female nominees at the 47th Annual Academy of Country Music Awards, while dressed as a cowboy, on Sunday night.
The Two And A Half Men star, who is rumoured to star as Apple icon Steve Jobs in a forthcoming indie film, sang a few lines from George Strait's I Cross My Heart before handing the award for female vocalist of the year over to Miranda Lambert.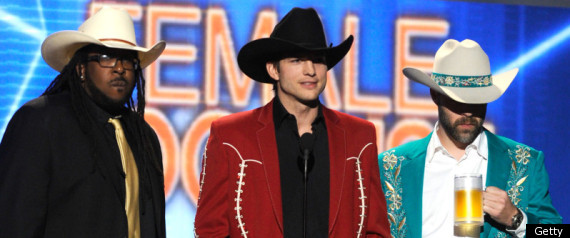 Meanwhile, Taylor Swift won her second consecutive entertainer of the year award at the Academy of Country Music Awards, just 24 hours after she was saluted by first lady Michelle Obama for her charity work on The Kids' Choice Awards.
The 22-year-old becomes just the second woman to win the award twice after Carrie Underwood accomplished that feat. She beat an all-male field that included Kenny Chesney, who was shut out at the awards after leading all nominees with nine nods.
Miranda Lambert, Jason Aldean and Kelly Clarkson were the night's top winners with two awards apiece. Lambert shouted "Seriously?" to her fans as she picked up the trophy for Four The Record. It was her third album of the year win, tying her with Alabama and George Strait, and she also picked up her third female vocalist of the year, scoring a family sweep as her husband Blake Shelton won male vocalist.
The Eli Young Band's smash Crazy Girl brought the Texas quartet its first win in Las Vegas, for song of the year. Lady Antebellum won vocal group of the year. It was the second big upset of the awards - Thompson Square took vocal duo of the year over Sugarland in an early award. American Idol winner Scotty McCreery won the fan-voted new artist of the year.
Toby Keith won video of the year for Red Solo Cup.
47th Annual Academy Of Country Music Awards