Sir Peter Blake has taken inspiration from his famous Sgt Pepper's Lonely Hearts Club Band album cover to create a new artwork.
The English pop artist, 79, is best known for designing the 1967 Beatles cover, a colourful collage of life-sized cardboard models of famous faces together with the Fab Four.
Each of the band members picked their favourites for the crowd scene, which featured Marilyn Monroe, Bob Dylan, Marlon Brando, Karl Marx, Marlene Dietrich, Stan Laurel and Oliver Hardy among others.
The new artwork features the names who have inspired Sir Peter, who has been dubbed the Godfather of Pop Art, over the decades.
British artists, film directors, musicians, writers, film stars, fashion designers and chefs, as well as himself and his family, are all represented.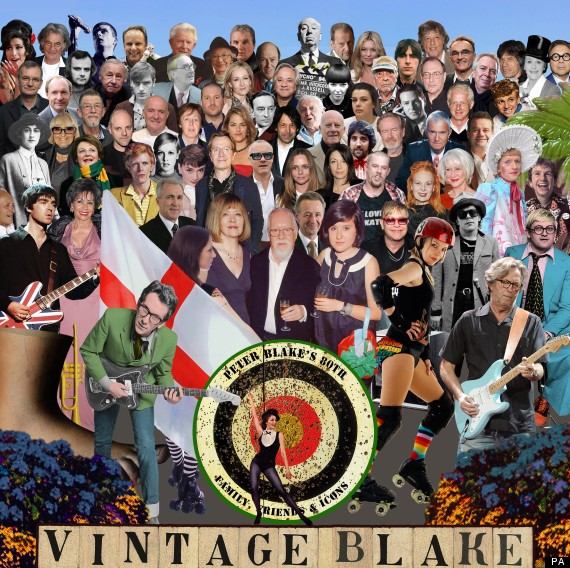 Sir Peter Blake has remade his famous Sgt Pepper's Lonely Hearts Club Band album cover
Those whose faces are on the new image include murder mystery writer Agatha Christie, fashion designers Stella McCartney, Vivienne Westwood and the late Alexander McQueen, filmmaker Alfred Hitchcock, singer Amy Winehouse, artists Anish Kapoor, Damien Hirst, Tracey Emin and David Hockney, supermodel Kate Moss, TV cooks Fanny Cradock and Delia Smith, Harry Potter author JK Rowling - and Sir Paul McCartney once again.
Sir Peter said: "I've chosen people I admire, great people and some who are dear friends.
"I had a very long list of people who I wanted to go in but fit everyone in - I think that shows how strong British culture is and its legacy over the last six decades."
The artist said: "The Sgt Pepper album cover was made by cutting pieces of cardboard and hand-colouring them. This one is computer generated. I often thought that if I did it again it would be very quick on the computer but it was very laborious.
"Putting this together made me realise we've got the most exciting artists, actors and chefs ... in this country. Our cultural scene is incredibly healthy."
Sir Peter has made the artwork to go on display during his 80th birthday celebrations at this year's Vintage Festival, celebrating the best of British culture.
Author Rowling said of her inclusion in the work: "Given that I've devoted quite a lot of time to gazing at the original Sgt Pepper album cover, you can perhaps imagine what it means to me to be selected. What an honour."
Noel Gallagher said: "When they told me I had been chosen I was obviously very chuffed. It's nice to be recognised by as great an artist as Sir Peter Blake."
Wayne Hemingway, who runs the Vintage Festival, said the work was "a tribute to Britain's standing as the world's leading creative nation".
"Sir Peter is the Godfather of British Pop Art and is still as passionate as ever about art and culture.
"It is truly an incredible honour to have him re-imagine such an iconic work of art and we are proud to be dedicating the Sunday at Vintage this year to celebrate his 80th birthday and creative and cultural legacy."
The Wayne Hemingway Vintage Festival, where an exhibition of Sir Peter's work will be on show, takes place in Northamptonshire from 13 and 15 July 13.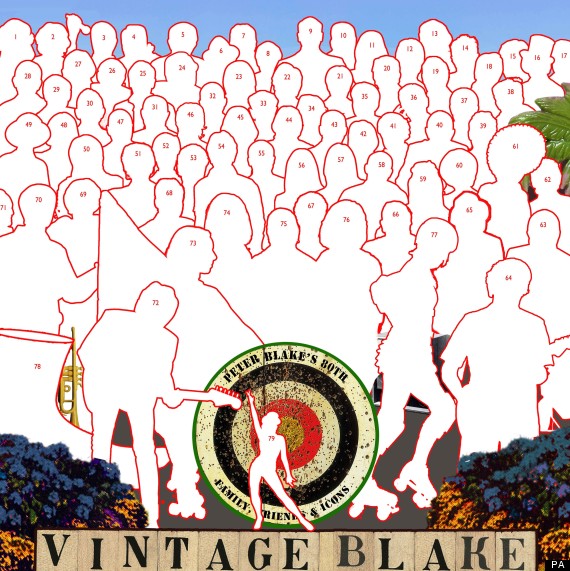 1. Amy Winehouse
2. Sir Paul Smith
3. Ian Curtis
4. Nick Park
5. Robin Day
6. Lucienne Day
7. Francis Bacon
8. Roald Dahl
9. Alfred Hitchcock
10. Lucian Freud
11. Kate Moss
12. Paul Weller
13. Sir Tom Stoppard
14. Danny Boyle
15. Sir Mick Jagger
16. Fanny Cradock
17. Mr Chow
18. David Chipperfield
19. Harold Pinter
20.David Bailey
21. Mary Quant
22. Anish Kapoor
23. JK Rowling
24. JRR Tolkien
25. Robyn Hitchcock
26. Sir Terence Conran
27. John Peel
28. Martin Parr
29.Sir Tim Berners Lee
30. John Hurt
31. Rick Stein
32. Sir Jonathan Ive
33. Sir David Lean
34. Sir David Attenborough
35. Bridget Riley
36. Sir Terence Rattigan
37. Richard Curtis
38. Tommy Steele
39. Mark Hix
40.Vidal Sassoon
41. Sir Ridley Scott
42. Justin De Villeneuve
43. Lord Norman Foster
44. Peter Saville
45. Tracey Emin
46. Sir Paul McCartney
47. Gavin Turk
48. Barbara Hulanicki
49. Agatha Christie
50. Delia Smith
51. David Bowie
52. Twiggy
53. Audrey Hepburn
54. Gary Oldman
55. Damien Hirst
56. Stella McCartney
57. Mary McCartney
58. Alexander McQueen
59. Dame Vivienne Westwood
60. Dame Helen Mirren
61. Grayson Perry
62. Wreckless Eric
63. David Hockney
64. Eric Clapton
65. Ian Dury
66. Sir Elton John
67. Chris Corbin
68. Jeremy King
69. Dame Shirley Bassey
70. Noel Gallagher
71. Richard Rogers
72. Elvis Costello
73. Liberty Blake
74. Chrissy Blake
75. Sir Peter Blake
76. Rose Blake
77. Daisy Blake
78. Monty Python foot
79. Victoria Vintage