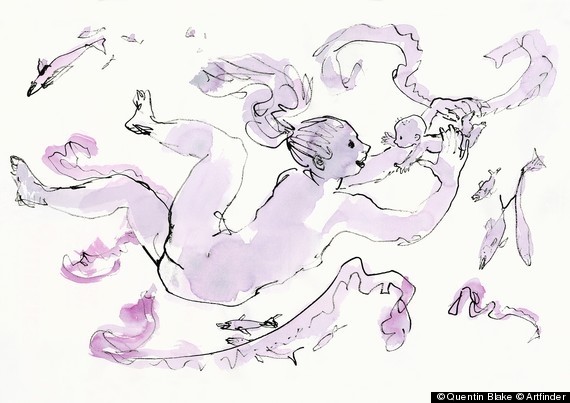 Quentin Blake, 'From the Series Mothers and Babies Underwater' (2011)
Once a month, HuffPost Culture are teaming up with ArtFinder to suggest some ways to brighten up your home with a new art print...
It's time for a Spring clean, and this month the print we want to decorate our walls with is Quentin Blake's Mothers and Babies Underwater, which is currently featured in the exhibition Quentin Blake: As Large As Life at London's Foundling Museum (ends 15 April).
Best known for his beautiful illustrations of the Roald Dahl children's books, Blake is one of Britain's most-loved illustrators. With over 50 years in the industry, his distinctive sketchy and rough-around-the-edges style is instantly recognisable, and his illustrations now form part of our cultural DNA.
This print – as well as all the images on show at the Foundling's exhibition – is testament to Blake's continuing contributions to hospitals and child welfare. Blake created this illustration for the new maternity building of the Angers hospital in France, and was designed to have an improving influence on patients and visitors.
In this illustration, mothers and babies swim together underwater and look at each other for the first time. It's a parallel world where their swimming expresses and celebrates their new-found liberty after the pains of labour.
"I think the very presence of pictures helps to make being in, or visiting a hospital, a more normal, less alien experience," Blake explains. "The wonderful thing about the Angers pictures was that they move on to a kind of celebration."
Visit the Foundling Museum before 15 April for a chance to see over 60 of Blake's works that were commissioned for hospitals in the UK and France, all of which capture the artist's light-hearted yet thoughtful style. Vibrant and imaginative, Blake's work has a life-affirming quality and always succeeds in capturing the magic in everyday situations. In analysing the world around us, Blake's work celebrates the quiet poetry of ordinary life, teasing out scenes of mischief and wonder and also giving his subjects a strong sense of character.
This print is no exception – it is abstract in nature yet celebrates the most basic of human functions and the love between the mother and her newborn; a perfect way to symbolise the promises of the new season Spring.
This Giclee print (on high quality Aquarelle Arches watercolour paper) is produced in an edition of 250 and is signed and numbered from the artist. Each print costs £250 and can be purchased from the Artfinder Online Store. Proceeds go to the Foundling Museum, which tells the story of the Foundling Hospital, Britain's first home for abandoned children and London's first public art gallery.