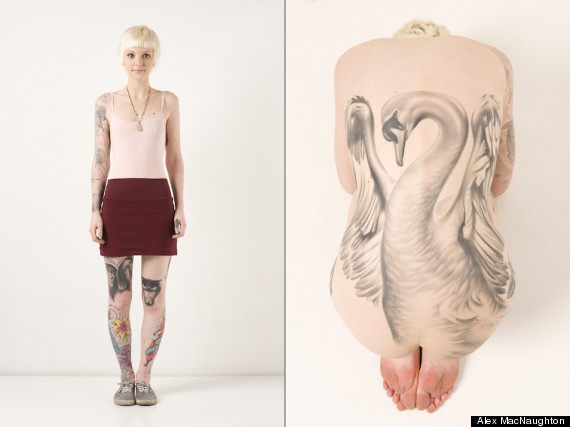 One of the subjects of London Tattoos
Photographer Alex MacNaughton was on a routine press job snapping a journalist getting a tattoo when he began idly flicking through the design books left on the palour's table.
"I felt the shots were all very similar, rather gothic, all about the tattoo. There was nothing about the person," he explains.
From this point an idea was born: to photograph tattoos in a way that provided a portrait, not just of the ink itself but of the person it was attached to.
London Tattoos is MacNaughton's 4th book, having released previous titles about London's street art scene.
Properly photographed body can look fantastic and MacNaughton's portraits do a great job of bringing out the personalities behind them.
For many people the biggest barrier to getting a tattoo is an inability to think of anything they'd realistically want etched on their skin for life.
And it's that decision, above all else, that London Tattoos helps to illuminate: how does the person match to the tattoo, and what made them choose it?