Gale force winds, snow, sleet and rain which battered parts of Britain and left around 10,000 homes across the north-east of England without power are set to continue today.
Some transport routes also remain closed after yesterday's wintry blast of weather brought Britain's early summer to an abrupt end.
It comes just a week after record-breaking warm temperatures in north-eastern Scotland. Last Tuesday temperatures rose to 23.6C in Aboyne, Aberdeenshire, marking a new high in Scotland for the month.
The Met Office has issued severe yellow weather warnings for show and ice in parts of Scotland, Wales, northern England and the Midlands.
Gale force winds, which reached up nearly 70mph last night, also show little sign of relenting in northern areas of England and Wales, according to forecasters.
Northern Powergrid said its engineers had been working throughout the night to restore power to customers after more than 200 faults were reported yesterday.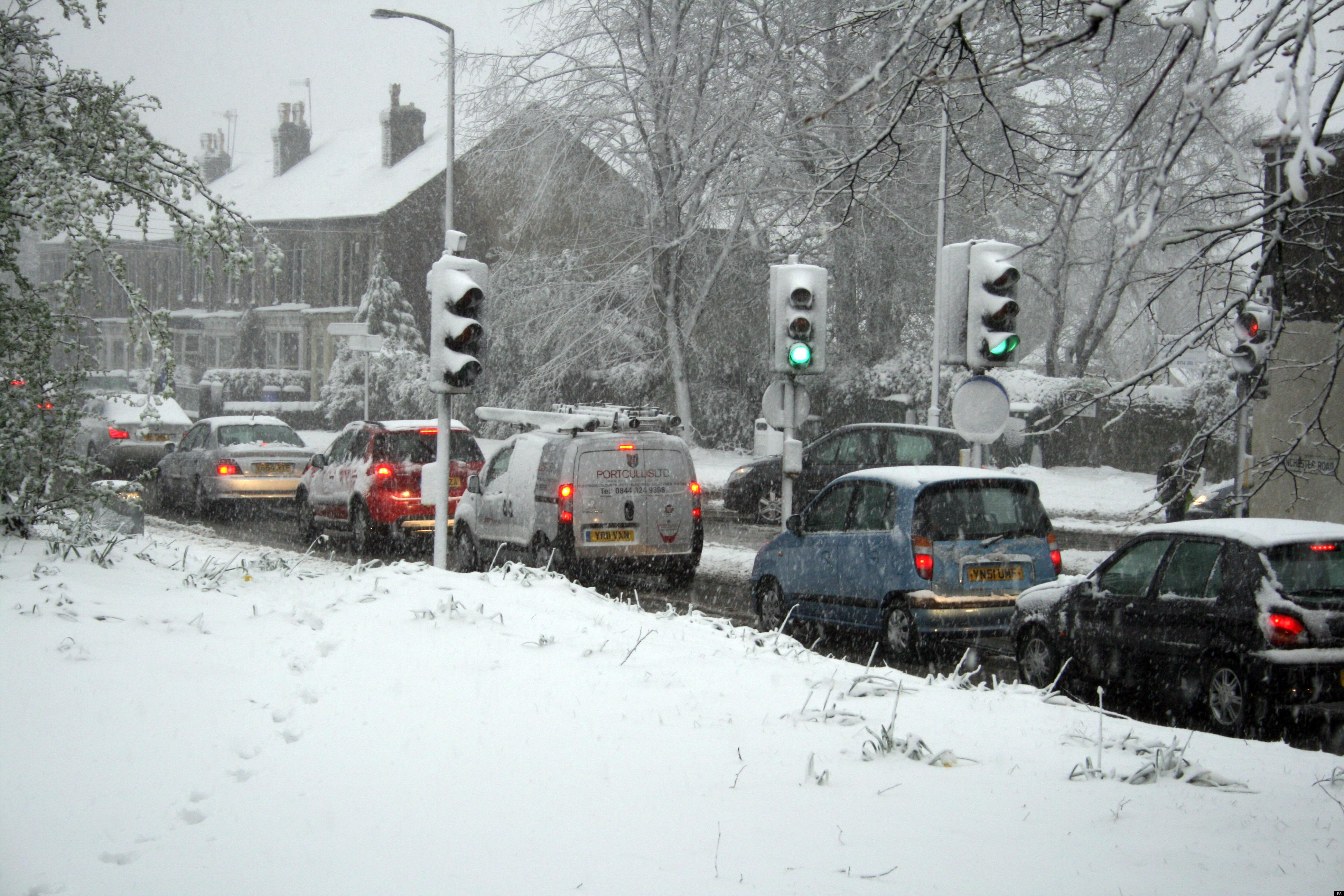 Traffic queues on the A57 in Crosspool, Sheffield as gale force winds, snow, sleet and rain continue to batter parts of Britain
Power cuts began to hit the Northumberland area yesterday afternoon as overhead cables were blown down by strong winds before areas further south began to be affected. Rain and snow also caused delays in fixing the problems.
It came after 11,000 Scottish Hydro customers were left without power yesterday morning.
Forecasters said between 15-20cm of snow fell in high parts of the Peak District, Pennines and Cumbria overnight, while trees were felled on higher gound as the Arctic front which battered Scotland yesterday began to move south.
Cumbria police said the A66 transpennine route remains closed in both directions due to severe weather conditions and advised drivers to use alternative routes. The A537 in Cheshire was also badly affected by snow this morning.
Aisling Creevy, a forecaster with MeteoGroup, the weather division of the Press Association, said a slow-moving band of rain, sleet and snow would continue to cause problems on higher ground today as it moves south.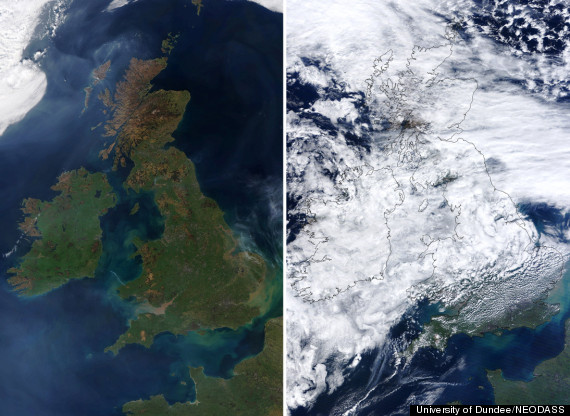 Satellite pictures from Dundee University show what a difference a week makes.
"There is currently a band of rain sleet and snow across northern Wales, the north west Midlands and northern England which will generally move southwards throughout the day leaving very cold and icy conditions behind it," she said.
"There will also be very strong winds again today after gusts of 66mph were recorded in Warcop in Cumbria overnight."
Temperatures in London and the south are expected to range between 9C and 12C today with the mercury reaching between 4C and 7C elsewhere, she added. Temperatures in the north could drop as low as -5C overnight however.
The Met Office said: "Rain is expected to turn to snow on high ground as colder air moves south across England and Wales during today.
"Some 2-5cm of snow is likely in places, mainly above around 200m with as much as 10 to 15cm possible above 300m.
"Little, if any, snow is expected to accumulate on roads and pavements below 200m. The area of rain, sleet and snow will clear from the north during the day."
Is there snow where you are? Email your pictures to ukpicturedesk@teamaol.com
Take a look at pictures of recent snow around Britain below: