Winter weather brought major disruption to parts of the country today as motorways jammed up with snow and ice brought down power lines.
Engineers were working round the clock to restore electricity supplies to thousands of homes cut off in the North East, Yorkshire and Derbyshire after strong winds and snow combined to cause 7ft drifts on exposed higher ground.
Forecasters said the bad weather would not continue but temperatures would be bitterly cold.
Gemma Plumb, forecaster at MeteoGroup, the weather division of the Press Association, said the mercury plunged to -7C in Braemar in Aberdeenshire, while Ravensworth in North Yorkshire saw a temperature of -4C and Crosby in Merseyside felt the cold with a temperature of -1C.
"It will feel particularly cold across central and southern England and Wales with a brisk north-easterly wind during the morning.
"It will be less cold further north," she said.
Electricity suppliers Northern Powergrid said 25,000 customers across Northumberland, west County Durham, the North Yorkshire Moors and West Yorkshire were still without power this afternoon as 180 faults remained to be fixed.
Access to the more remote affected areas was proving difficult and a helicopter was used to inspect lines.
In the Peak District, 1,500 homes were still cut off Western Power Distribution said.
A spokeswoman said the firm hoped most would be restored tonight.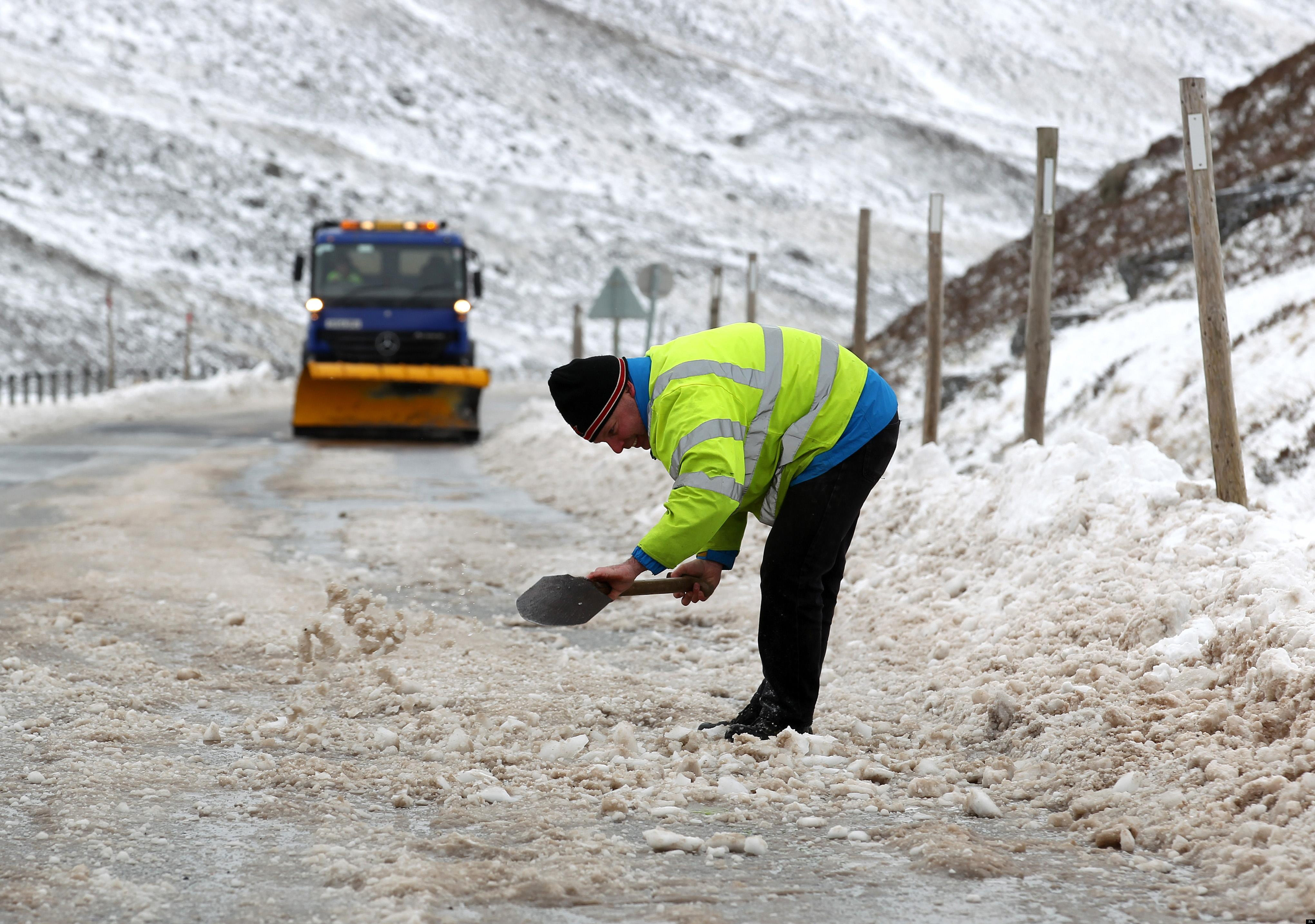 A council worker and gritter from Perth and Kinross Council chip away at the ice covered A93 at Spittal of Glenshee in the Cairngorms
Around 90,000 homes across northern England had suffered power cuts since the bad weather arrived yesterday afternoon.
Between six and eight inches of snow fell in high parts of the Peak District, Pennines and Cumbria overnight, while trees were felled on higher ground as the Arctic front which battered Scotland yesterday began to move south to the Midlands and Wales.
The April snow caused tricky driving conditions and forced the closure of trans-Pennine routes.
Long delays in both directions between Leeds and Manchester caused frustration to thousands of motorists on the M62 after vehicles became stuck on the icy carriageway.
On the A68 between Tow Law and Castleside, County Durham, 40 vehicles were stranded overnight and on the A66 two families were rescued from their cars and sheltered at Barnard Castle police station.
Campers at Marfit Hall farm on the North York Moors were astonished to wake with their tents half-buried in snow after enjoying a communal barbecue last week in shorts and swimming gear.
Campsite owner Angela Hodgson said: "There are people camping and it's 3ft deep.
"They just want to get out and go home, I think."
New-born lambs shivered in the fields and daffodils which were wilting last week under hot sun were bowed over with snow.
A postman in Consett, County Durham, said his round had taken twice as long as he trudged through drifts, but said this winter had been kinder than usual.
Meanwhile, a rescue operation was under way in Colwyn Bay, North Wales, after a boat which hit rocks in a storm began to leak oil.
Tom Tobler, a forecaster with the Meteogroup, the weather division of the Press Association, said temperatures will pick up for the Easter weekend.
"The cold front coming south is very slow-moving and has stalled over Wales and the Midlands," he said.
"It will carry on sliding south and rain and any snow it brings will ease off overnight.
"Looking ahead it is turning less cold again, with quite a lot of cloud around for most areas as we go into the weekend, with some patchy rain.
"It will be milder with no sign of anymore snow through the weekend."
The number of properties in the North East and Yorkshire areas without power supplies now stands at 12,000, Northern Powergrid said.
The company said engineers are carrying out repairs on 120 known fault incidents and will continue working into the night to restore power.