The Women's Super League kicks off this Sunday, and research commissioned to coincide with its return shows that due to the lack of profile of women's football, fans are heading to social networks for their news.
As a consequence, these followers are up to seven times as interactive as those of the men's game, and to mark the new season and added interest, the players are the first UK sports team to display their Twitter name on their kits.
Women's football has emerged as the third biggest team sport in the UK behind only men's cricket and men's football, but is eager for wider recognition.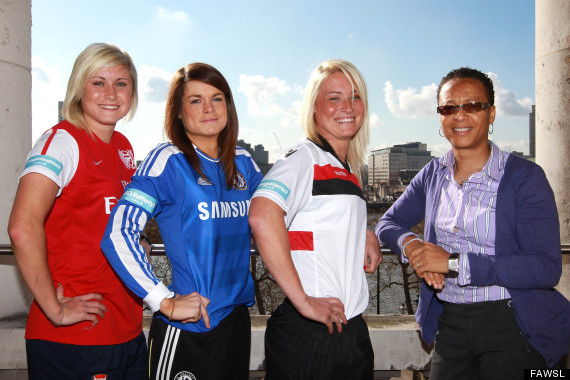 Steph Houghton (Arsenal), Claire Refferty (Chelsea) and Megan Harris (Lincoln Ladies) with England coach Hope Powell
And to raise awareness, each club will appoint an ambassador to use social media to give fans a glimpse of life on and off the pitch.
Kelly Simmons, The FA's Head of the National Game, who led the debate says: "When we launched The FA WSL last year we set out to be a truly interactive league by inviting fans to have a say and to get closer to the players through social media channels. Since then we have increased supporters inside and outside of the stadium, but consistent awareness and recognition remains challenging.
"This research shows that there is an appetite for content about women's football, but the sport rarely makes headlines except for major tournaments. We want to continue to interact with our fans in exciting ways and make 2012 a starting point, not an end point, for greater support for women's football."
You can tweet the FAWSL @FAWSL and show your support using #supportoursport.