Dannii Minogue was staying on a paradise island popular with newlyweds when Kris Smith moved out of their home, according to a report.
The split - which the pair announced earlier this week - was made all the more painful for Dannii because she was away working and staying at the exclusive Hayman Island hotel - a honeymoon resort - on the Great Barrier Reef when Kris cleared his belongings out of their Melbourne home, according to The Sun.
An insider tells the paper: "The place was mostly full of loved-up couples. Dannii looked very lonely and miserable. When anyone asked where Kris was she brushed it off.
"She only left her suite when she was needed for work. And she clung to her little boy like she didn't want to let him go."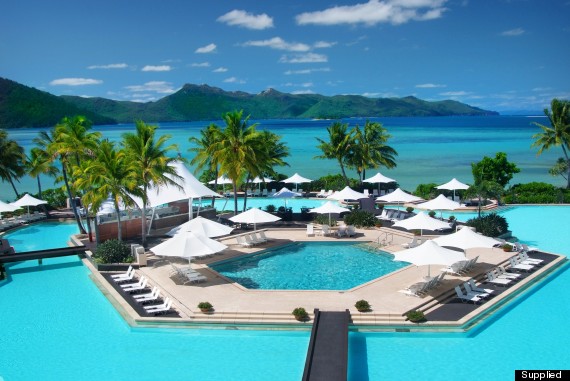 Meanwhile, The Mirror suggests the couple's split came about after Kris presented Dannii with a passport holder as a Christmas present and told the star that hers was "tatty from so much travelling".
Reports also point towards the singer's busy schedule having put a strain on the relationship, and a source tells the newspaper: "There have been lots of problems and the pair were living increasingly separate lives.
"Dannii is a workaholic, Kris wanted her to slow down and enjoy life a bit more, but you don't tell a Minogue that. Dannii is a perfectionist - she lists everything around the house like chores on little Post-it notes - they are everywhere and when things are tense this kind of thing can cause a row."
The former X Factor judge confirmed on Wednesday that she had parted ways with Kris, the father of her son Ethan, telling her Twitter fans: "It brings me great sadness to tell you that Kris & I have separated. We still care for each other & ask for privacy at this difficult time, in particular for our son Ethan who remains our number one priority."
Kris added: "Dannii and I have a deep mutual love and respect for each other and although things have not worked out we have a gorgeous son together that we both love and implore everyone to respect our privacy at this challenging time."
CELEB PICS OF THE DAY