A millionaire's daughter has been convicted of burglary as well as driving looters around London during last summer's riots.
Laura Johnson, 20, had denied chauffeuring a group on a late-night crime spree through London on 8 August last year, saying she had acted under duress.
The jury heard that the group cruised around the capital, her passengers leaping from the car clad in hooded tops, bandanas and balaclavas before stashing the vehicle with stolen goods.
The jury at Inner London Crown Court cleared the University of Exeter undergraduate of a second count of burglary, but was continuing to deliberate over a third charge.
Judge Patricia Lees told the panel she would accept a majority verdict on the outstanding charge.
The jury was told that Johnson, from Orpington, south east London, set out early in the evening to deliver a phone charger to her friend, Emmanuel Okubote, 20, a convicted crack cocaine dealer and thief, otherwise known as T-Man.
The court heard that Johnson, who previously tried to kill herself, began a close friendship with Okubote during the summer after being introduced to him by a friend she met while an out-patient at a mental health unit.
When she arrived at their meeting point in Catford, south London, he jumped into the passenger seat while others climbed into the back of the car, prosecutors said.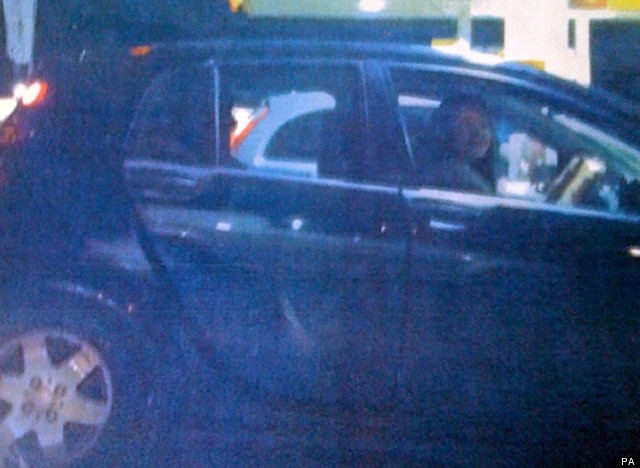 Above: Johnson in the car on the night of the looting
Johnson told detectives she was instructed to drive from one place to another late at night and into the early hours of the morning.
When she stopped, her passengers - most of whom she claimed never to have met before - would embark on a looting mission.
She told the court she was ordered to act as his driver and was too frightened to flee.
Asked why she had not refused to drive that night, she told police: "I didn't get the impression they were the sort of people you say no to... I suppose there's a fear of them, there's a general knowledge that these are just not the kind of people who you don't go along with, especially when they are sat in your car and have an idea of your family or registration plate."
Sandy Canavan, prosecuting, rejected Johnson's version of events, saying: "You merrily engaged in an orgy of looting. You, your friends, Laura, were all at it, happy as sand boys."
Johnson will be sentenced on 3 May.