Louis Oosthuizen's albatross on the second at Augusta propelled him into contention to be the second successive South African to don the green jacket, but it was Floridian Bubba Watson who defeated him in a two-hole play-off at the Masters.
Across the pond, exactly four weeks on from tears at Swansea, Manchester City's Premier League capitulation seems to have been sealed. With six games remaining, they are now eight points behind neighbours United at the top of the Premier League table after losing 1-0 to Arsenal, after two defeats and two draws in less than a month.
Arsenal's win affirmed their recovery under Arsene Wenger in the aftermath of their Milanese misery against AC in February with an excellent display against the Citizens. Across north London, Harry Redknapp's wailing Tottenham struggled against a regimented Sunderland at the Stadium of Light.
Here's four talking points from the weekend's sport...
BEYOND BALOTELLI
"It's a circus, and every time I've been to the circus, there's always some clowns." Few can argue with Sky Sports pundit Gary Neville's summary of Mario Balotelli's umpteenth circus act in English football after he saw red for a fourth time in City blue. And he may have feasibly played his last game for the club if the FA retrospectively and rightly punish him for his disgusting first-half challenge on Arsenal's Alexandre Song.
But it's too easy to just blame him. He is impetuously imbecilic (he had another tedious T-shirt celebration planned yesterday) but he has at least kept City in contention for a first English title in 44 years. Against Sunderland, where City manager Roberto Mancini revealed he wanted to substitute him after five minutes, he ironically scored twice. Compare that with Edin Dzeko, who hasn't scored in seven games and David Silva, who is without a league goal since 18 December, and some of the criticism seems excessive.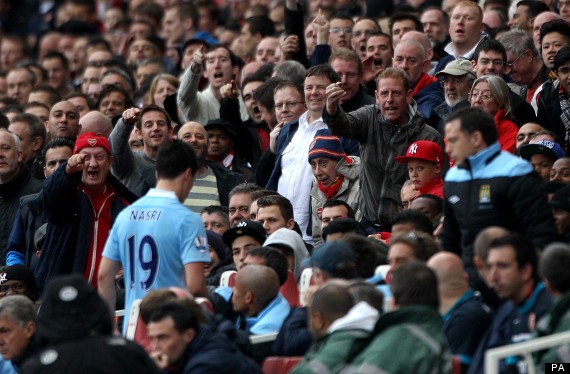 Samir Nasri has underperformed at Eastlands this season
Mancini candidly claimed in his post-match press conference he will sell him, but he too is culpable. Such frank man-management has inevitably had a detrimental effect on an already capricious squad, while the lack of backbone over Carlos Tevez immediately renders any promise as futile. Balotelli, like David Beckham for England at the 1998 World Cup, will be the whipping boy, but it masks numerous problems at Eastlands.
MICHAEL RE-VAUGHAN
It wasn't the thrilling end it threatened to be, but the final round of the Masters offered a semblance of drama in the BBC's interview booth. That familiar northern accent of post-round interviewer, it transpired on Saturday evening, belonged to Michael Vaughan, who of course played cricket as a profession, not golf. Tasked with interviewing the world's finest golfers after their rounds ended, he hit a triple bogey when he told Tiger Woods he had won the Masters three times. "Four times." Woods shooted back. Hands slapped heads in Salford meanwhile.
Whoever suggested an ex-cricketer should interview at a golf tournament evidently holds the wrong job. But, at the risk of sounding so Daily Mail, this is the BBC. Manish Bhasin, who had hosted Football Focus, was suddenly jetting out to the Caribbean to present the country's 2007 cricket World Cup coverage. Jake Humphrey, a Newsround alumni, has presented Formula One, a variety of football shows and the Superbowl, and Lizo Mzimba, another Newsround presenter, now asks actors mundane questions. At least he plays golf
When you pay £40,000 per episode to Alan Hansen to occasionally make an erudite observation on Match of the Day, your direction is headed for a dead end. The BBC have lost so much live sport over the last 15 years (they showed the last two rounds of the Masters whereas Sky had all four) and their commitment and aversion to change is embarrassing. Someone needs to Sat Nav them out of the cul-de-sac they've long been in.
REFFING HELL
Apparently, referees get 90 per cent of the major decisions correct. This fink tank logic is hard to tolerate when the standard appears to disintegrate with every campaign, and especially when one considers major decisions at Old Trafford, Stamford Bridge and the Emirates this week.
Five decisions in those three games were erroneous - most of them glaringly so. While fans will concede refereeing is an unenviable job when you are called a "w****r" for making a correct call, the unwillingness of the Professional Game Match Officials to address flagging standards is frustrating.
QPR chief executive Phil Beard was unimpressed with Ashley Young:
Such vaingloriousness has resulted in newspaper columns, after dinner speaking and autobiographies for referees. In Jeff Winter's Who's The Bastard In The Black?, he reveals he deliberately played a bit of extra time in his final Premier League game, waiting until the ball was at the Kop end. Then, he blew the whistle to signal full-time.
"The fans behind the goal burst into spontaneous applause. It was longer and louder than normal, even for a home win. Did they know it was my final visit? Was it applause for me? They are such knowledgeable football people it would not surprise me."
Such delusions of grandeur remain a problem. Liverpool had actually sealed a Champions League berth for the following season, having failed to do so the previous season.
And now Lee Mason, who gave Manchester United a helping hand on Sunday when he red carded Shaun Derry, practises brandishing cards in front of the mirror, according to one journalist. And they want respect?
REPUTATIONS
Luis Suarez was perhaps unlucky not to have been awarded a penalty against Aston Villa on Saturday, and was certainly blameless after he was booked for diving when he was trod on by Stephen Ireland in a separate incident.
A day later, Ashley Young, who has had a penchant for theatrics since his Aston Villa days, repeated the trick to win a suspect penalty for Manchester United, while perpetrator Shaun Derry was sent off. The difference is, he is English. And jingoistically, the school of thought is that English footballers do not dive when videos will attest that they do just as much, and have done as far back as Francis Lee's heyday. We have lift off