The swimmer arrested after bringing the Oxford-Cambridge Boat Race to a dramatic halt has defended his anti-elitist stance and claimed he has always "fought from within".
Trenton Oldfield said he had been privately-educated for four years but left and went to a state school because he "couldn't stand the elitism".
The annual contest yesterday was dubbed "possibly the most dramatic Boat Race in history" after the wet suit-clad swimmer was spotted in the vessels' path and the competition had to be restarted almost half an hour later.
Oldfield, who lives in a run-down block of flats in Myrdle Street, east London, has been charged with a public order offence and released on bail.
The 35-year-old posted a series of messages on Twitter today, saying: "With the severe deficit in democracy new sites of protest unfortunately have had to be found" and "if its jail time, so be it" (sic).
He added: "Still waiting for someone to show me when elitism (seeing oneself above another) hasn't lead to oppression and tyranny?"
The drama of yesterday's race continued when the blade of an Oxford oar broke and the crew's bowman Alex Woods collapsed at the end and was taken to hospital.
Crew member Roel Haen said Dr Woods had now been released from hospital.
He wrote on Twitter: "Our bow-man and hero Alex Woods was released from the hospital this morning and is doing well."
Oldfield, an Australian who studied contemporary urbanism at the London School of Economics and says he is a Fellow of the Royal Society of Arts, has a website called Elitism Leads to Tyranny, which discusses civil disobedience tactics.
He replied to a barrage of messages from both supporters and detractors today.
He also noted: "75% of judges, 70% of finance directors, 45% of top civil servants and 32% of MPs have been privately educated."
He told followers: "Elitism is an idea, a way of living/seeing not what background you have."
Oldfield will appear at Feltham Magistrates' Court on April 23 charged with a Section Five offence under the Public Order Act, Scotland Yard said.
Meanwhile British Olympic Association chairman Lord Moynihan said that police and security chiefs "can never completely remove" the threat of disruption at London 2012.
In four months' time, crowds will line the route at a string of Olympic events including the open water swimming in Hyde Park as well as the marathon, triathlon and road cycling.
Lord Moynihan, a former Olympic rowing silver medallist, said "every conceivable scenario" was being reviewed to ensure the Games ran smoothly but conceded: "It just takes, and is likely to be, one idiot."
He told BBC Five Live's Sportsweek programme: "It's not likely to be a well-orchestrated campaign through Twitter or websites.
"It is likely to be someone similar to the idiot yesterday who causes major disruption.
"That is why all the security measures need to be put in place to minimise the chance of that happening.
"You can never completely remove it but you can do everything possible to protect the interests of the athletes by minimising it."
He added: "It is so important to work closely with police and security agencies and to put in place every possible measure to protect the interests of all the athletes.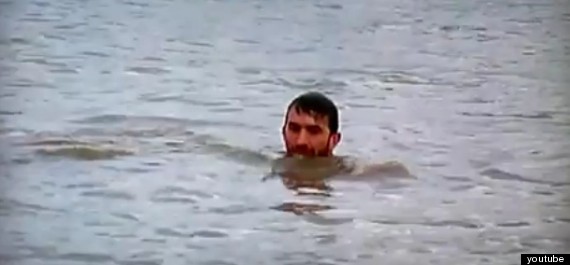 Oldfield has been charged with a public order offence
"In many respects that is the biggest ask of the Games: you are not just talking about the competitions, you are talking about the pre-Games training camps. Athletes will come well in advance based around the country, you've got the torch relay coming up, the public need to be protected...
"It's not impossible but it is a major challenge. You can never get it perfect unless you remove all the crowds and nobody is going to dream of doing anything like that."
The Metropolitan Police said it was working with the Games organisers and protest groups in an effort to prevent any demonstrations from adversely affecting the events.
A spokesman said: "The incident that occurred at the Boat Race not only put the protester in danger but also the participants in the race.
"The Metropolitan Police is working with the organisers of the Olympic Games as well as protest groups to ensure that we facilitate lawful protest. We will work with groups which wish to protest so their points can be made but without impacting on the running of the games.
"The nature of the Boat Race means that its course of over four miles presents particular policing challenges.
"We are confident that the plans we have in place will enable the delivery of a safe and secure Olympic Games."