Holidaymakers around Britain have been enduring cold weather, rain and strong winds, as the Easter break draws to a close.
But while the holiday period was marked by cool wet weather, temperatures are expected to rise later this week, with even some sunshine forecast.
A Met Office forecaster said that despite the "fair amount of cloud and rain" around the country on Monday, temperatures could reach 12 degrees by the end of the week.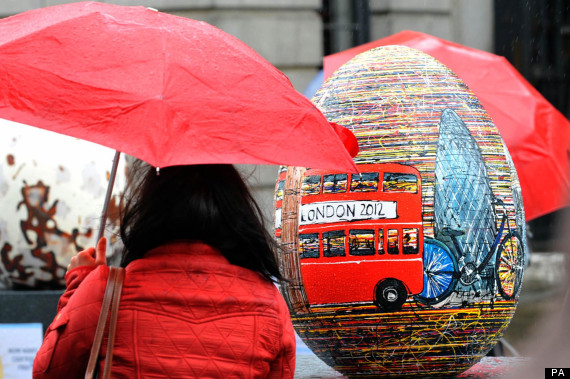 Tourists wander among giant Easter Eggs, in London's Covent Garden
"There is a fair amount of cloud and rain around today and it is quite windy and will clear away overnight. Tomorrow they'll be a mix of sunshine and showers.
"The wind should ease off a bit. It'll be similar for the rest of week, there'll be showers for the rest of the week and some dry spells in between. Most places will see some showers tomorrow but a lot of places will also see some dry and sunny weather as well. It'll be a bit of a mix."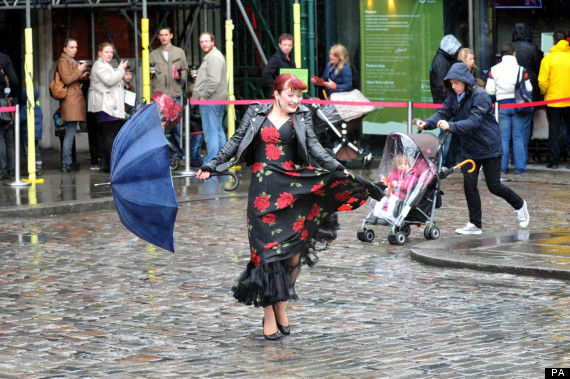 Street entertainer Dolores Delight entertains crowds queuing in the rain in London's Covent Garden
They added that temperatures would be normal for this time of year, but warned the wet weather might not be over. "It might start to feel a little bit cooler towards the end of the week."
Meanwhile Michael Dukes, a forecaster with MeteoGroup UK, said the weather would remain "unsettled":
"We should be careful about saying that this is unwelcome weather - all of the water boards are desperate for it to carry on.
"The rest of the week will be unsettled. The best chance of sunshine will be in the mornings with showers in the afternoon. The northern hills could see snow."