BBC Breakfast welcomed viewers to its new home in Salford today.
Regular presenters Bill Turnbull and Susanna Reid hosted the show from its MediaCityUK base in the northern city for the first time.
A traditional television link between the pair introduced viewers to the new setting - one and a half minutes into the programme.
Turnbull previewed a news item on one in four people reportedly not knowing their neighbours, suggesting friends may be made in other ways nowadays.
Reid followed on: "Talking of making new friends, we are very glad you have joined us for our first morning from our new studio in Salford."
Turnbull continued: "We have still got our old friends, of course, too - Carol has the weather."
Weather reporter Carol Kirkwood was out on location for the first live show as she brought the forecast from Upton House and Gardens in Banbury, Oxfordshire.
Studio guests included Manchester-based human rights lawyer Pete Weatherby QC, who discussed the possible extradition of radical preacher Abu Hamza.
Dr David Holmes, a psychologist at Manchester Metropolitan University, chatted about the survey on neighbours, while actress and singer Connie Fisher - currently starring in the musical Wonderful Town at the nearby Lowry Theatre in Salford Quays - was also due on the new Breakfast sofa.
The corporation's flagship morning programme will be fronted by Turnbull, Reid, Louise Minchin and Charlie Stayt, following the departures of presenter Sian Williams and sports presenter Chris Hollins.
The team join around 2,200 BBC staff now based in Salford, including employees of the BBC Sport and BBC Children departments, Radio 6 Music, Radio 5 Live and North West Tonight.
Broadcast since 2000, BBC Breakfast averages an audience of 12 million viewers per week.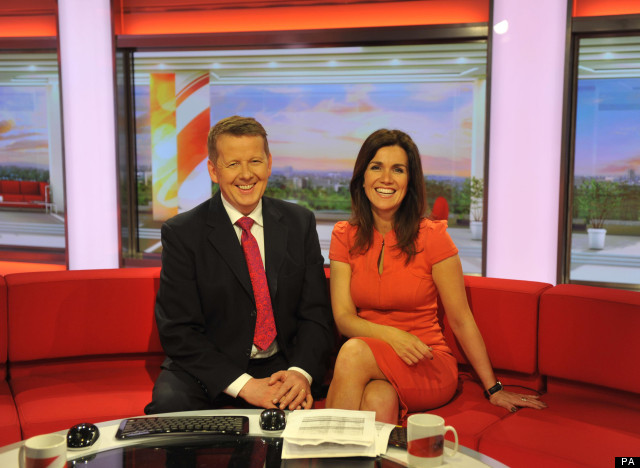 Hosts Bill Turnbull and Susanna Reid on the sofa of their new Salford set
Last month it was reported that glitches with computer systems at the new centre may impact on the show's move.
But speaking to the Guardian at the time, BBC journalism development editor Rod Beards dismissed the problems as "snags" which would be ironed out before the relaunch.
As permanent members of staff, Reid and Turnbull are entitled to a full relocation package should they choose to reside in Manchester but Minchin and Stayt are freelance employees, so any move would be at their own expense.
Forty-six percent of BBC Breakfast staff have relocated to Salford, but the BBC could neither confirm nor deny last night that Reid would commute daily from London as had been previously reported.
Breakfast is the highest-profile show so far to be based at the new centre as part of the BBC's drive for better regional representation in Britain.
The programme broadcasts daily from 6am on BBC1 and the 24-hour BBC News Channel.
Other guests were Jethro Tull singer Ian Anderson and American "real-life horse whisperer" Buck Brannaman.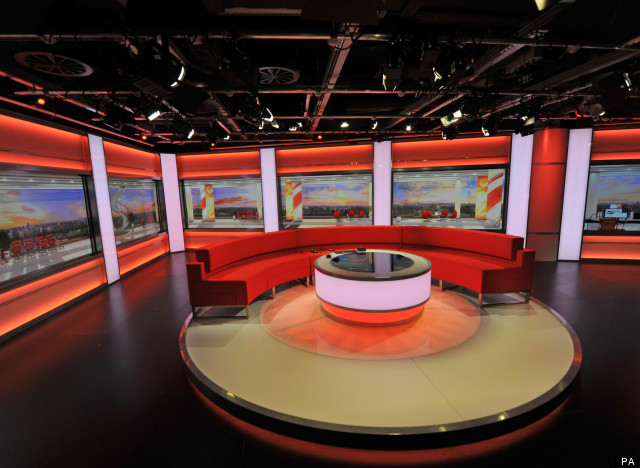 The full BBC Breakfast set in the new Salford Studio
Also in the studio - billed as their first TV interview - were Paul Davies and Joe Hallett, friends of British tourists James Kouzaris, 24, and James Cooper, 25, who were shot dead by a teenager in Florida last year.
Mr Davies and Mr Hallett attended the trial of Shawn Tyson, 17, who was given two life sentences after being convicted of two counts of first degree murder.
The men have helped set up the anti-violent crime charity Always A Chance in memory of Mr Kouzaris and Mr Cooper.
References to the new setting were minimal during the show which appeared to run smoothly aside from the minor glitch of an out-of-sync satellite link-up from a correspondent covering the visit to Japan of Prime Minister David Cameron.
Signing off the programme, Turnbull said: "That was day one, all of us come back tomorrow?"
"Yes, I like it here!" exclaimed Reid.
Turnbull added that a behind-the-scenes tour of the new studio from business presenter Steph McGovern was available on its website, while viewers were promised a music special tomorrow with a live performance from singer Labrinth and appearances from the bands Happy Mondays and Inspiral Carpets.
An outside camera shot of the new studio finished the first edition of the show from Salford Quays.