Even in a world of App Stores, digital distribution and supermarket multi-buys, for 10 years there's been one place in Central London where you could roll back the decades and hand over cash for classic and retro games.
One of the last independent and retro gaming shops in London has lost its final life, and dropped its shutters for the last time.
"We would like to thank all of our loyal customers over the years for their support and wish you all well," the note said.
"As one of the last indie retro and import stores in London, we held on and fought as long as we could.
The message is signed simply: "Bye. Scottish Guy."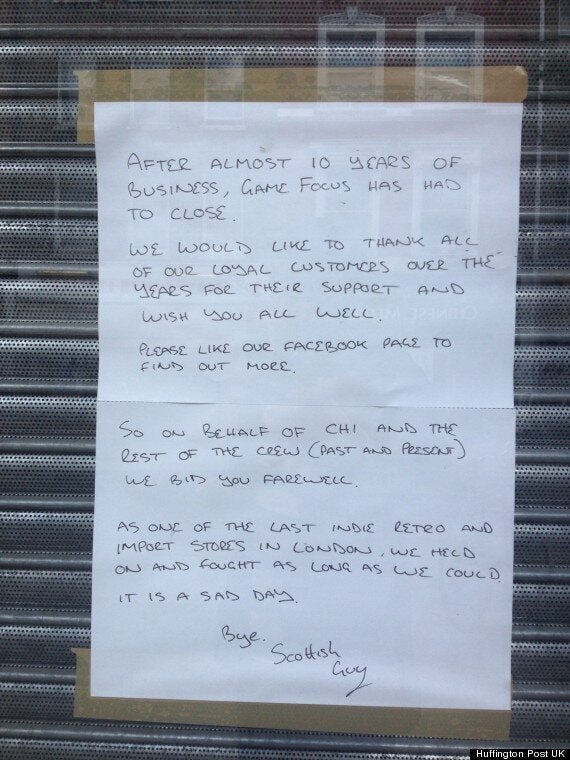 For almost a decade Game Focus, near Tottenham Court Road, sold a bizarre and eclectic mix of retro consoles, import games, second-hand new releases and other gaming ephemera.
Known to its fans as a slightly-shabby treasure, everything from Game Cubes to Neo-Geos, Ataris and weird, Korean hybrids littered its shelves.
Rows of original, slightly dusty, Game Boy games were offered for sale, usually for a few pounds or less, and it was always possible to find a hidden treasure in the stacks. But no more.
"After almost 10 years of business, Game Focus has had to close," it said.
To an extent retro gaming has found a natural home online. Retailer eBay lists thousands of games and consoles for sale, from Super Nintendos to Commodore 64s, and websites like RetroCollect and the magazine Retro Gamer, which recently passed 100 issues, have helped keep the flame alive.
But on forums around the internet fans lamented the loss of another bricks-and-mortar store.
"The shelves have been a bit bare in the past couple of years but I'll miss it," said chocklo, a member of retro gaming forum Retro Collect. "I used to work in London regularly round the corner so I'd always fit in a visit en route to CEX when they had a decent retro section downstairs."
He added: "I'm sad when any retro/import shop closes it's doors. At the end of the day, it's all about choice and it's one less place I can go hunting for those treasures."
"Guess it's just not an economical business model," said threeaugustones, another member of the forum. "It's a shame when any game shop goes to the wall (especially a 'retro' games shop) so I wish them good luck if they continue in another way."
For shops like Game Focus things were even tougher. The market for retro games has always been relatively niche, and with the wide availability of classic games on eBay and Amazon, not to mention emulator sites, paying the rent on a shop in North SoHo was apparently too much to bear.
But don't be too despondent. If you're still trying to finish off your Mario collection there are a few retro gaming shops around - including one in London.
"I believe the retro games market is extremely strong," McNeil said. "Customers buy 80% of their retro fix from eBay and Amazon, as you can basically find whatever you want on there, but we have something different to offer… People trust us."
But for retro gamers in London Game Focus is still a loss. So if you're one of those with a NES or MegaDrive still tucked under you're telly, maybe bash the buttons for a few minutes tonight in their honour?