Japanese food company Suzumo has unveiled its latest gadget in the sushi-making process – the 'SushiBot'.
These robotic sushi roll creators are designed to whip up and roll out 3,600 mounds of nigiri (sticky rice) per hour (that's 300 sushi rolls an hour, 10 rolls in two minutes), steering more towards the fast food market and further away from its gourmet cuisine appeal.
Sushi's popularity has soared in recent years and while sushi-making machines aren't completely new (the first one was unveiled in 1981), the new crop of hi-tech 'SushiBots' is faster and more efficient than ever to meet the market's hungry demands.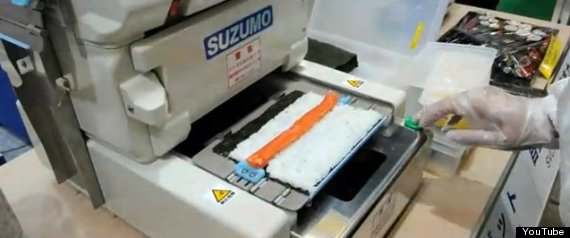 The new gadget was presented at the World Food and Beverage Great Expo in Tokyo and while its fast-paced sushi roll making is impressive, it still needs the hand of a human to help feed the ingredients manually before it grabs the sticky, vinegared rice and shapes it into a roll.
So gone is the fine culinary art of sushi rolling and now it's in with the robots. Take a look at the video to see how the Suzumo-Bot works… and try not to get too peckish.
Weird Delicacies From Around The Globe