China has named suspended senior Communist Party official Bo Xilai's wife as a suspect in the murder of a British businessman.
Neil Heywood, who was known to be close to Bo Xilai, was found dead in a Chinese hotel room last November.
The official report into Heywood's death said he died of alcohol poisoning, the foreign office said.
Heywood's body was cremated shortly afterward, and no post-mortem was conducted.
But his death has since become embroiled in the political scandal surrounding Bo, after other businessmen in Beijing apparently suggested he might have been murdered.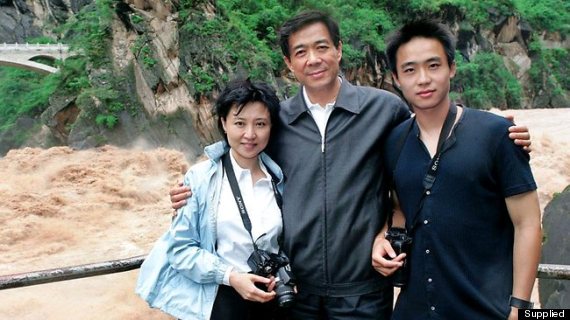 Heywood's relationship with the regional party chief was unusually close for a foreigner. He had reportedly helped Xilai's son get into Harrow School, where he had been educated.
In March ITV said that Heywood worked for a corporate intelligence firm which was set up by former MI6 officers, and quoted sources who speculated that he may have been a spy.
Last week ITV reported that Heywood may have "fallen out" with Bo's wife, a lawyer named Gu Kailai, before he died.
The Chinese police initially insisted Heywood's death was accidental, but last week the Foreign Office asked China to reopen the investigation and on Tuesday the official Xinhua news agency said: "The existing evidence indicated that Heywood died of homicide, of which Bogu Kailai and Zhang Xiaojun, an orderly at Bo's home, are highly suspected."
"Bogu Kailai and Zhang Xiaojun have been transferred to judicial authorities on suspected crime of intentional homicide." Above: disgraced party official Bo Xilai
Foreign Secretary William Hague has welcomed the investigation, saying he had "taken a personal interest" in the case.
He told Sky News: "I decided a few weeks ago that we should ask the Chinese authorities to investigate the death of Mr Heywood, so of course I welcome the announcement.
"The Chinese are doing as we asked them to do and we now look forward to seeing those investigations take place and in due course hearing the outcome of those investigations."
A spokesman for the Foreign Office said: "We welcome the fact that the Chinese are investigating this case, indeed we had called for this to happen. We will await the conclusion of their investigations."
Mr Bo's wife Gu Kailai is being investigated for the "intentional homicide" of Mr Heywood, Chinese state television said.
The station said both she and an orderly at Mr Bo's home have been turned over to judicial authorities.
Mr Bo has been suspended from the party's 25-member Politburo on suspicion of involvement in "serious discipline violations", state television added.
At the time of Mr Heywood's death, the official notification said he was killed by "over-consumption of alcohol", a Foreign Office spokesman said.
"We provided consular assistance to the family and we continue to give it," he said.
Mr Bo, his wife and their son were friendly with Mr Heywood but clashes over economic interests had intensified, state media reported.
CNTV news said: "According to investigation results, Bogu Kailai, wife of Comrade Bo Xilai, and their son were in good terms with Heywood. However, they had conflict over economic interests, which had been intensified.
"According to senior officials from related authorities, China is a socialist country ruled by law, and the sanctity and authority of law shall not be tramped.
"Whoever has broken the law will be handled in accordance with law and will not be tolerated, no matter who is involved."
If Heywood was murdered the investigation would be virtually unprecedented. The Times said that except for people killed accidentally in robberies or assaults, murders of foreign nationals are extremely rare.
Wang Lijun, the former police chief of Chongqing, where Bo was the party chief, was thought to be the source of the information on which the Foreign Office called for a new investigation.
In February Wang spent 24 hours in a US consulate, resulting in the political scandal which engulfed Bo's career.
Wang is now thought to be in government custody after being talked out of the consulate while it was surrounded by police.
Before his downfall, Bo had been campaigning for a post in the Politburo Standing Committee, the most powerful council in China.
However since the revaluations his career has collapsed. He was removed from the Central Committee of 200 senior officials and the Politburo, and it was reported on Tuesday that he had also been expelled from the Communist party.
His downfall led to a spate of online rumours that a military coup was underway in secret in the country, which were later proven false. China recently instructed its army to 'ignore' the Internet after the rumours got out of control.