A hand-held robotic surgical tool has been used for the first time in the UK to remove a deadly kidney tumour.
Doctors from the Manchester Royal Infirmary used the life-saving bionic device (called a 'Kymerax robot') to successfully remove a tumour from a 65-year-old grandfather.
"Fortunately my cancer is very early stage – I was lucky that it was picked up so quickly because it means I have the best chance of beating it," John Mitchell told the Telegraph.
The £90,000 hand-held robot, made by a Japanese company called Terumo, works by being inserted into the body via keyhole surgery. Once in, it precisely removes the tumour without damaging the kidney, enabling it to still function.
"Whilst this operation has been done before these new instruments allow greater accuracy and freedom of movement than the conventional keyhole surgery instruments," Dan Burke, a consultant urological surgeon told the newspaper.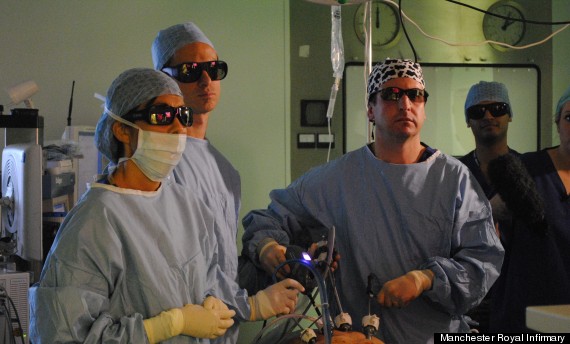 This isn't the first time doctors from the Manchester Royal Infirmary performed a surgical first in the UK.
Earlier this month surgeons performed an operation using a 3D hand-held robotically assisted laparoscopic radical prostatectomy (the removal of prostate cancer). This is first time hand-held robot technology has been used in conjuction with 3D technology.
Normally, keyhole surgery is performed using a 2D screen to see inside the body, but because it is a 2D image, there are limitations on depth perception.
The new 3D technique means the image will be projected on an operating monitor, with surgeons wearing 3D glasses to see the image more vividly and accurately.
"We are already excited at the potential this technology has, not just for us but for our many colleagues in the Trust in perform keyhole surgery," Urologist Dan Burke said in a statement.
"The equipment can be moved easily between theatres so any specialty could benefit. Ultimately we are aiming for a better patient outcome at a cost that will benefit the NHS."
This new surgical technique follows the crab-like robot that removes stomach cancer.
Scientific Medical Breakthroughs