A depraved pensioner who peddled alternative medicine and offered treatment as a cover to molest women was jailed for eight years today.
Quack medic Reginald Gill, 77, shocked victims by falsely diagnosing cancer using a bizarre electrical probe.
Wheelchair bound Gill was aided by a wife more than 40 years younger who helped him dupe two female victims.
Leila Gill, 35, was also imprisoned for six months today as the couple were jointly jailed at Swansea Crown Court.
Judge Keith Thomas told Gill his actions represented a "gross betrayal of trust" as he jailed him today.
Wife Leila was told she was manipulated and would not have offended without her pensioner husband's influence.
The duo ran a small homeopathic products and treatments business in the quiet west Wales village of Cwmduad, near Carmarthen.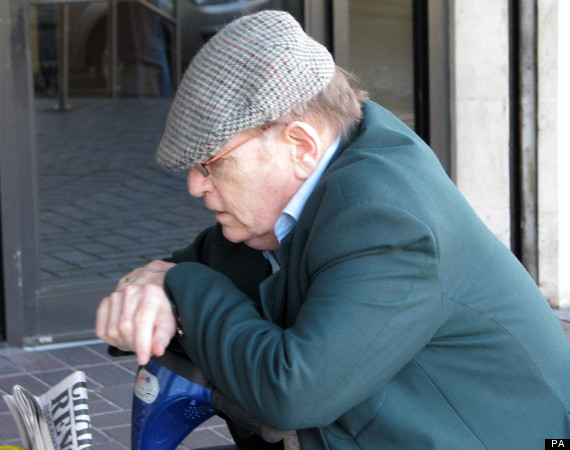 Reginald Gill, 77, arriving at Swansea Crown Court where he was jailed for eight years
It enabled them to prey on victims who had lost faith in the NHS, charging them £120 a time for each bogus session they underwent.
Gill was found guilty of nine separate sex offences and two fraud charges at Swansea Crown Court at the start of February.
Reports indicated the fake doctor told a woman he could cure her 'cancer' by getting a man to suck on her nipples.
His wife was found guilty of one sexual offence and one of fraud.
Gill's bogus cancer claims were all invented to allow him to carry out intrusive physical examinations of his naked victims.
The pensioner also claimed to have been a doctor in the Army although it later emerged he had worked in the catering corps.
Gill carried out what he described as physical "scans" on his victims using his hands.
He claimed to have cured both his female victims as a result of his intrusive techniques. But neither had ever had cancer.
He also used an IFAS machine, regarded as dangerous and unproven by the medical profession, to insert an electrical probe inside his victims.
Gill claimed the device killed cancer by releasing high frequency electrical waves and ozone into the body.
He went on to sell them to vulnerable people who came to him for help at £2,200 a time.
After his conviction in February it emerged that Gill already had a conviction for indecent assault going back to 1975.
He was also convicted and jailed in 2004 for a Trade Description Act offence in which he persuaded a real cancer victim to cease conventional treatment.
He was jailed today following two failed attempts to sentence him and his wife over the six weeks.
Last month Gill arrived at court on his motorised scooter but quickly suffered what was described as an "attack".
He was taken to hospital by ambulance and kept in overnight and the sentencing hearing was adjourned to a later date.
It followed a previous hearing which was adjourned when Gill left court complaining of ill health before he could appear.
John Hipkin, for Gill, said in court today: "The whole quack enterprise may have had its origin in the defendant's own disability."
He said that Gill had also had two previous wives who suffered ill health and for whom Gill was their carer over 30 years.
He asked the judge to be lenient on passing sentence due to Gill's advanced age and ill health.
Passing sentence judge Thomas told Gill he had subjected his victims "to humiliating abuse for your own purposes".
He said that he had targeted vulnerable women "who came for help with medical problems after they had lost faith in the NHS".
He then went on to "deliberately misdiagnose" his victims who were left traumatised by what they were told.
"It was a gross betrayal of trust and I am satisfied that you also induced your wife to go along with your depraved scheme."
Jailing Leila Gill, the judge said: "You would not have committed these offences if it had not been for his malevolent influence.
"Your offences are, nevertheless, nowhere near as despicable as your husbands."
The twin jail terms handed to the Gills were welcomed by the police.
"Dyfed Powys Police prides itself on investigating all crimes, and especially crimes like this which affect the most vulnerable in our communities at the most vulnerable time," said Detective Inspector Steve Cockwell.
"The victims in this case were clearly weak and exposed at a very difficult time in their lives and went to the Gills looking for support, not exploitation.
"Today's sentence by the court sends a clear signal that society and our courts of law find crimes of this nature repellent and will punish those persons found guilty accordingly.
"Thankfully, crimes of this nature are rare in Dyfed Powys, but victims can be assured that when they do come to us, we will take their allegations seriously and investigate them thoroughly."