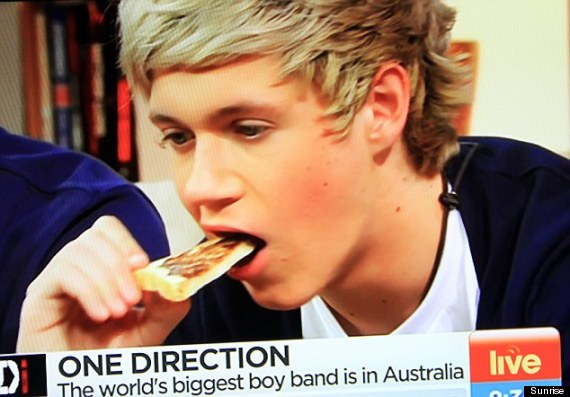 He risked offending Australia when he recoiled in horror at the taste of Down Under delicacy Vegemite on toast, but One Direction star Niall Horan's half eaten snack has caused quite a stir - it's attracting online bids of £65,000.
Niall and his fellow band members appeared on Aussie breakfast show Sunrise during a recent visit to Sydney and the programme's host encouraged the star to sample the local treat.
However, former X Factor contestant Niall's taste buds took offence to the Vegemite paste and he spat it out live on TV.
After the experience, Niall tweeted: "Can clearly say Vegemite is horrible! Like trying new stuff though."
But Niall's horror is another man's pleasure - the remainder of the toast is attracting huge bids in an online charity auction for YouthCare.
The item was listed on eBay and is described as a "bread product with Vegemite and saliva".
Going into greater detail, the seller wrote: "Please note: The item is perishable and although we will package it so that tampering is evident, we do not advise that it is consumed. We will not be including the mouthful that Niall spat out - because that's just gross."
The bidding opened with an offer of just £0.64 but quickly rose to £648 within three hours.
Numerous offers flooded into the site and two people soon matched each other with bids of £65,000.
The auction closes on April 14th.
> IN PICS: ONE DIRECTION MANIA HITS OZ
One Direction Mania Hits Australia