Darren Clarke and fiancée Alison Campbell were married in a small ceremony Wednesday on a beach in the Bahamas.
Clarke, 43, posted pictures of the couple on Twitter after they got married near the Northern Irishman's home in the town of Abaco, where they shared their vows.
Both of Clarke's two sons, Tyrone and Conor, the couple's parents, agent Chubby Chandler and fellow Irish golfer Graeme McDowell were in attendance.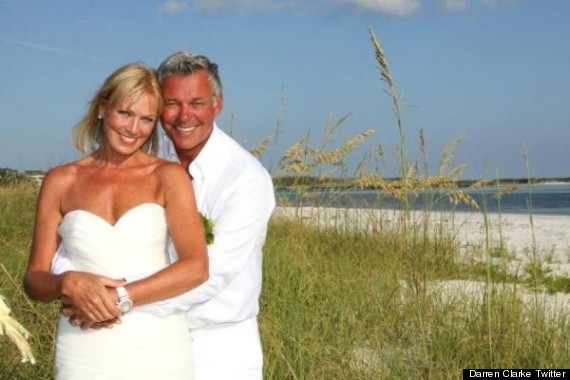 Clarke and wife Alison pose for a post-wedding snap
McDowell introduced Clarke to Campbell on a blind date in 2009 and they got engaged to be married days before Christmas last year.
Campbell runs a Belfast-based modeling agency and was named Miss Northern Ireland in 1982.
Winner of last year's British Open at Royal St. George's, Clarke credited her with helping to pick him up after the death of his first wife, Heather, in 2006, after she succumbed to breast cancer.
After his first Major victory in 2011, he said the win was "for the kids", referring to his two sons from his marriage to Heather.