We still don't quite get this 'calling off your engagement but still staying together' business that Max George and Michelle Keegan are doing at the moment, but if rumours in today's papers are to be believed it might shed a little more light on the whole thing.
Tulisa has apparently found herself embroiled in the half-break-up (is that what we're calling it?), after she spent the evening partying with The Wanted member earlier this year.
The pair enjoyed a seven-hour bender together and Max's drunken flirting is said to have enraged ex-fiance Michelle.
A source told The Mirror: "Tulisa has been mates with The Wanted guys for ages and they were all out in Los Angeles at the same time. After watching their gig, the gang all met up afterwards. They ended up going to a really cheesy gay bar and necking shots into the early hours of the morning.
"From there, Tulisa invited Max, Jay and a few other friends back to her gorgeous penthouse for an after-hours party. Max thinks Tulisa is absolutely gorgeous. He was being pretty flirty, just as Jay was getting it on with one of her brown-haired chums.
"Everyone slept over at the apartment that night but Max and T were never alone at any stage."
The morning after the raucous night, Tulisa's cling on PA Gareth Varey tweeted: "Great night with @thewantedmusic and @officialtulisa... The walking dead have arisen. Good morning LA... Erm I think I'm still drunk?!"
And it seems it may have been the wild night which gave Max a taste for the single life.
A source added: "Max is in one of the hottest boybands around and is still only 23. He just wants to have some fun and not be tied down."
However, the official line is that they are still a couple, with a representative telling The Sun: "Michelle and Max are still very much together as a couple but they are both traditionalists and realised that there is no point in being engaged until they are in a position to plan a wedding."
After a smiley Michelle stepped out yesterday wearing a t-shirt bearing the slogan 'wild hearts can't be broken', Max also was showing no signs of heartbreak as he enjoyed a day out with the lads at a theme park in the States.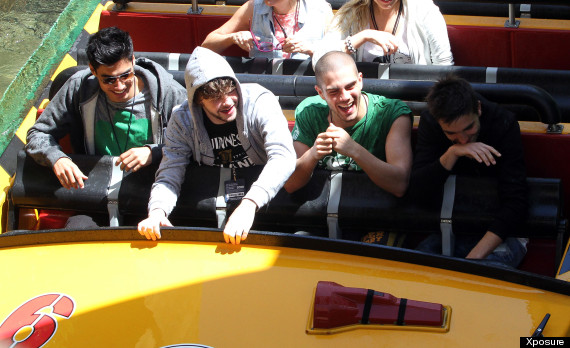 The band - who are currently on a promotional tour of the US - took some time out from their hectic schedule, making a splash at Universal Studios.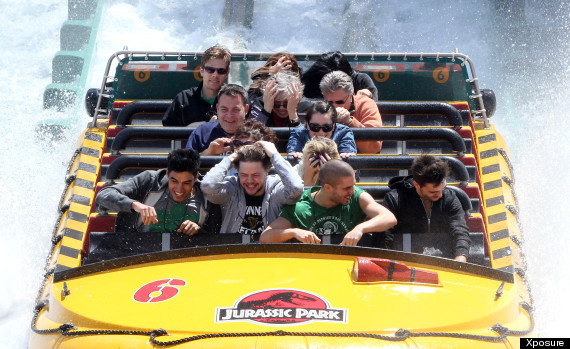 Some of the other boys have been joined by their girlfriends in America, but after the events of the last few days, Max decided to fly his mum out.
As she arrived on Wednesday he took to his Twitter page to write: "Mother George has arrived!!!!! Sooooo good to see her, she's the best."
Aw, bless.