North Korean leader Kim Jong-Un has attended a ceremony to unveil the country's latest political monuments - a statue of his late father Kim Jong-il, which stands next to that of his grandfather, Kim il-Sung.
The twin behemoths, created from bronze, form the centre-piece of the Mansudae Grand Monument in the capital, Pyongyang.
Behind the statues is a mosaic figure of Paekdu Mountain, known as the birthplace of the Korean people.
Also in attendance for the revealing were various political and military leaders of the reclusive communist regime.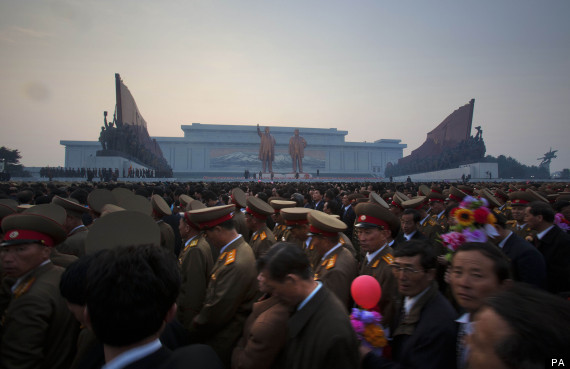 North Koreans exit the Mansudae area after an unveiling ceremony
Originally, the square was dominated by a statue of "The Great Leader", which was erected in 1972 to celebrate Kim Jong-il's 60th birthday. It remains a tradition in the secretive state that everyone visiting the statue must lay flowers at its feet, while tour groups are forced to bow.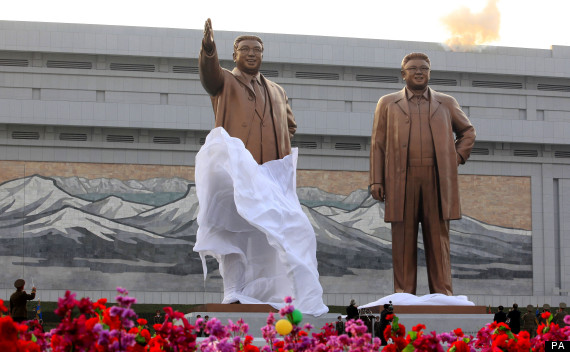 Revealing "The Great Leader"
The addition of the figure of "The Dear Leader" comes just months after his death, and was unveiled to coincide with the county's celebrations for the 100th anniversary of Kim il-Sung's birth.
On Friday, a controversial North Korea rocket failed shortly after launch, plunging in pieces into the Yellow Sea. The take-off drew international condemnation from the US, South Korea and Japan.
Enjoy the late leader's most famous outing (WARNING - strong language):
Some of the world's most famous political monuments: