Dannii Minogue weathered another media storm to appear on stage last night at Melbourne's Logie Awards.
It was the first time Minogue, recently separated from her partner of four years, Kris Smith, had appeared since revelations made in a new book claim that she had an affair with her X Factor boss Simon Cowell, back in 2008.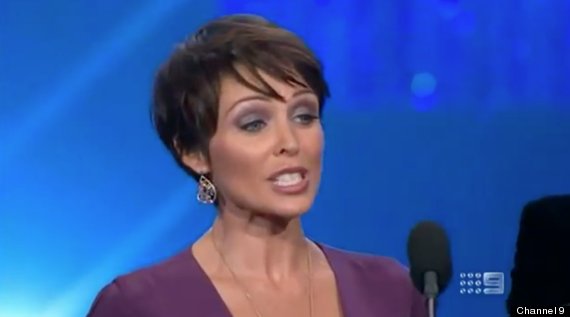 Dannii Minogue appeared to be feeling the strain last night on stage at the Logie Awards in Melbourne
MORE: Dannii Fuming At Simon Over Claims Of An Affair
The book, written by respected journalist Tom Bower, claims that Cowell told a friend of "a couple of bonks" before the affair petered out when he went to America.
MORE: One Direction Steal The Show Down Under, But Some Fans Are In Tears
Smith, who is the father of Minogue's son Ethan, has previously accompanied her to this Australian event, but was noticeable by his absence last night, despite being one of Australia's highest-profile faces, through his modelling work for one of the country's department stores, Myer.
One Direction and other stars on the red carpet Down Under...