Source: Caters
These harrowing pictures show how a cocker spaniel was literally burned to death after she was left in a homemade dog drying cage for 20 minutes.
Trudie suffered burns and internal injuries after being placed in the heated steel cage by dog groomer Jo Taylor.
The container consisted of a steel cage fixed to a heater and covered with a tarpaulin.
When Taylor, who runs Yensid Dog Grooming, in Wigston, Leicestershire, removed Trudie on 6 October last year, she immediately rushed her to the vets.
Scroll down for pictures of Trudie's injuries. WARNING, READERS MAY FIND THESE UPSETTING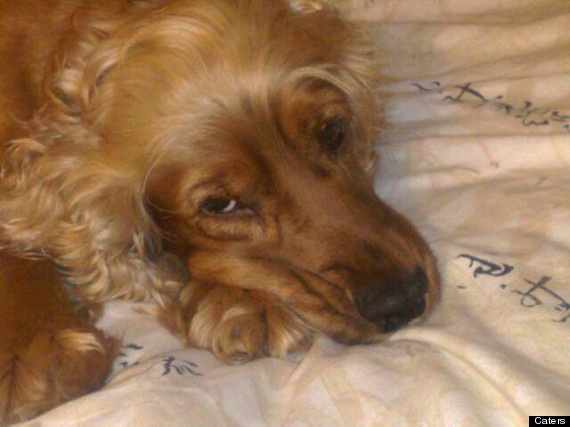 Trudie's injuries were treated with aloe vera and bandages, but sadly she had to be put down
But the seven-year-old dog's injuries were so severe she had to be put down by staff.
On Monday, Taylor, 31, appeared at Leicester Magistrates' Court charged with causing unnecessary suffering to an animal and failing to ensure the welfare of an animal in her care.
Following the incident, Taylor, who runs the business from her home in Wigston, Leicestershire, was interviewed by the RSPCA.
Giving evidence at Leicester Magistrates' Court Taylor described what had happened.
She said: "She was sitting up the whole time she was in the cage and I was there the whole time. She made a little whimpering sound when I put her in but that's normal for a lot of dogs.
"She responded to my voice but made no moves to come out when the drying had finished.
"I reached in and she stumbled. I saw the injuries on her leg and I thought the rash had become inflamed."
Vet Emma Drabble said Trudie was given antibiotics and pain relief before having aloe vera and bandages applied to her wounds.
Drabble said: "Her skin had started to peel and blister and when we took a blood sample it showed she was dehydrated.
"Her temperature reduced to normal after a couple of hours but the internal bleeding continued."
The vet and Trudie's owner agreed to save her suffering and have her put down.
Taylor admitted the injuries were caused while the animal was in her care but said the cage was a popular method of drying dogs.
Before October, 81 dogs, including her own, had used the cage, she said.
She added: "I've also groomed 100 more dogs since the incident and no problems have been encountered."
Taylor said she had placed her own pet in the device for 70 minutes with no ill effects.
Magistrate Peter Tyler said: "We find it difficult to accept the evidence that the dog, Trudie, was checked every few minutes.
"The injuries were caused during the drying process. You failed in your duty to keep her from harm."
Taylor was given a conditional discharge and ordered to pay £350 court costs.
After the trial, Trudie's owner Maureece Sarell, 55, said: "It's disgraceful that she was left in that box unsupervised."