As well as being impossibly stylish, a wonderful father and a hunky husband, David Beckham is also doing his bit for charity.
Spotted this week attending a basketball game with son Cruz, the footballer wore a "Life Rolls On" T-shirt, promoting the work of a charity which focuses on the improving the quality of life for young people affected by spinal cord injuries.
Life Rolls On was inspired and founded by Jesse Billauer, who was partially paralysed following a surfing accident. It is a subsidiary of the Christopher and Dana Reeve Foundation.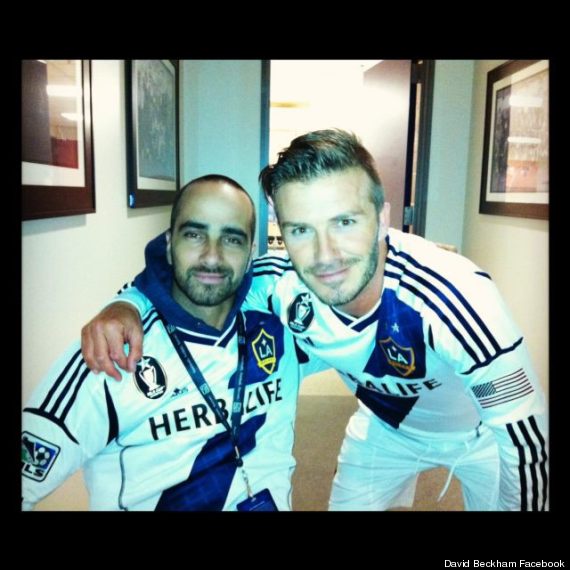 David Beckham and Jesse Billauer pictured together following an LA Galaxy v Portland soccer match last week
Despite being left quadriplegic, Jesse continues to surf and now serves as the organisation's Director of National Outreach and motivational speaker.
He said: "LRO is an avenue to hope, independence, freedom, happiness, inspiration, and teamwork."
Jesse, who promotes sport as a platform for victims of paralysis, was pictured with David at after an LA Galaxy v Portland soccer match last week.
David's wife Victoria has joined in her support of the charity, tweeting a picture of the T-shirt her husband was wearing.
Jesse added: "It is about bringing people together and changing lives one day, one program, and one person at a time.
"Each of LRO's amazing programs offers the opportunity for the physically disabled to open their minds, help them forget about their challenges and to be thankful for the opportunity to still be alive."