Is this the best value for money smartphone? With a four-inch screen, a five megapixel camera and access to Android's ever-growing app store, at £100 on pay as you go, the Huawei Ascend G 300 looks to be a serious contender for this title.
The G 300's price puts it right in the middle of a fiercely competitive bracket, with the popular Samsung Galaxy Y on sale for around £20 less than the Huawei and the BlackBerry 8520, Nokia Lumia 710 and Samsung Galaxy Ace available for a little extra.
So what does the Huawei offer that its rivals don't? The handset has a 1GHZ processor, which means it can handle a fair bit of action. If you like your Facebook, Twitter, Email and other social updates all being pushed to you at once this phone can handle it comfortably.
The five megapixel camera works relatively well in natural light but struggles in the dark, although no more than cameras featured on more expensive phones.
There is very little in the way of photo editing options on the phone, but with Android's growing stable of photo-editing apps, this isn't too much of a problem.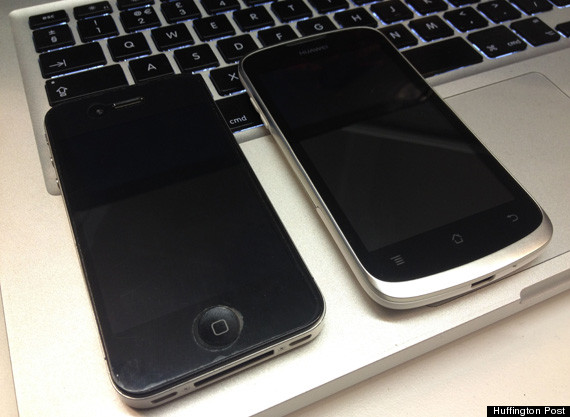 A four-inch display is where the Huawei really moves up a gear from its rivals. The larger screen makes almost every every activity on the phone more enjoyable and a wider screen allows for a wider virtual keyboard - essential if you are plagued with oafish thumbs.
Although simple, Huawei's overlay of Android is refreshingly simple to use. The phone runs the company's new Hauwei Android Platform 5.1 over an old version of Android, however an upgrade to the latest Ice Cream Sandwich is expected later this year.
One of the nicest features of the OS is the unlock screen, which allows you to open your most used apps directly by dragging the unlock icon into one of four other icons. Perfect if you need to take a quick photo or have an urgent call to make.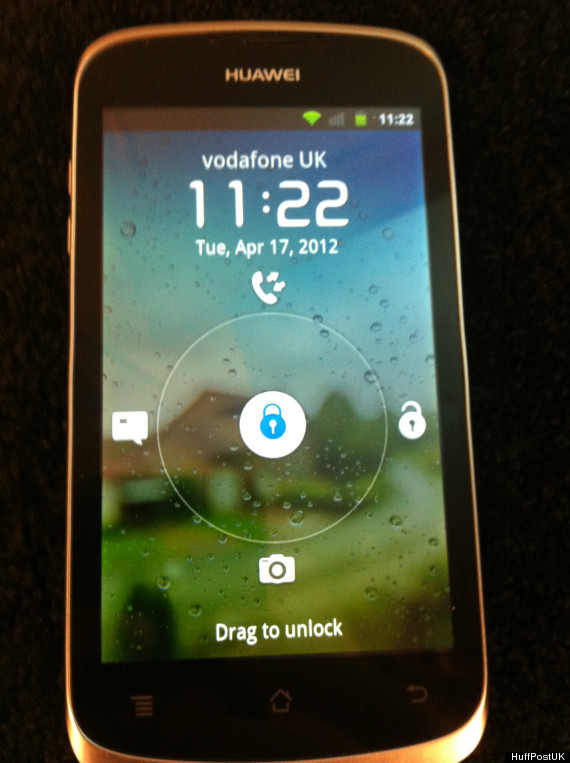 On the whole everything sounds positive so far, but there is something about this phone that infuriates from the moment you switch it on.
The phone doesn't handle particularly well. All of the buttons feel awkwardly placed and virtual keys respond about as responsively as roadkill.
The phone feels slightly too large and heavy with the curves in all the wrong places, which may sound like a small thing but all these features combined makes you feel like you're constantly about to drop the thing. The longer you use the phone, the bigger an issue this becomes.
If all you are looking for is a phone to make calls, send texts, check the odd email and perform basic internet functions, then this does the job better than any BlackBerry in the same price range and offers slightly more enjoyable user experience. Anything more than this and the phone is going to struggle.
At every turn it feels as though Huawei are expecting your jaw to hit the floor whilst you gasp "and you said this cost how much?" Yes, the Huawei Ascend G 300 is relatively cheap when compared to its competitors, but it certainly feels it too. It is slow when using higher performance apps, the screen isn't massively pleasant to look at for long periods and the functionality is passable, but hardly overwhelming.
What you are getting for your £100 is a capable phone which offers slightly more than some of its price-rivals. What you are most certainly not getting is a cut-price iPhone or HTC One X.
In the low-cost smartphone market what matters most is the user experience. This phone offers one that is close to pleasant, but nothing more.
For all the positives this phone boasts, for all the functionality, speed and generously sized display, the Huawei Ascend G 300 is still an entry level smartphone and although it boasts some rather impressive specifications, if you're after a proper smartphone it would be well worth your while taking a look at what a little bit more than £100 could get you.
The Huawei Ascend G 300 is available exclusively on Vodafone for £100 on pay as you go or from £15.50 a month.